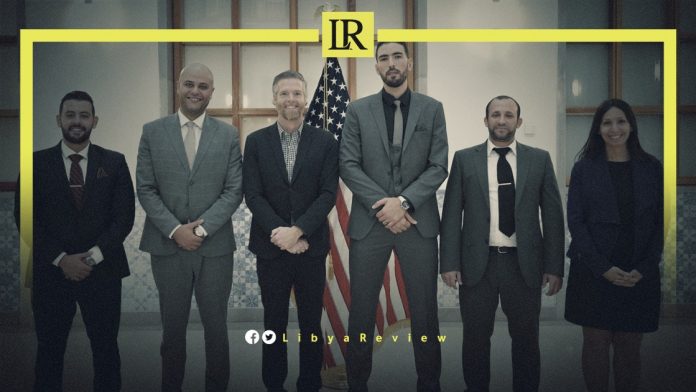 The Chargé d'Affaires of the US Embassy in Libya, Leslie Ordeman met with officials from the Central Bank of Libya (CBL) and the Libyan Audit Bureau. They discussed efforts to promote transparency in Libya's financial system.
In a tweet published by the US Embassy in Libya, Ordeman added that he was pleased to meet with the officials. He congratulated them for being selected to participate in the Bureau of Educational and Cultural Affairs (ECA) professional exchange program, focused on combatting corruption.
Earlier this month, Ordman stressed the need for "progress towards unifying the military institution in Libya." He emphasized the importance of "removing foreign forces, fighters, and mercenaries from Libya," and the need to "disarm, demobilize, and reintegrate armed groups into the country's Army."
The US diplomat pointed out that these steps are "essential to avoid conflict and advance the political transition process in Libya."
In a video, Ordman stated that achieving these goals would "advance peace and secure Libya's long-term sovereignty and stability as advocated by the Libyan people."
Ordman expressed his pleasure at meeting with Libyan military officials representing both east and west, attending the International Aerospace and Defense Exhibition in Hammamet, Tunisia. He affirmed that the United States is committed to supporting the reunification of the Libyan army, under a democratically elected civilian leadership.
The diplomat commended the cooperative efforts of the Chiefs of Staff in the eastern and western regions, Abdulrazek Al-Nathouri and Mohamed Al-Haddad, and the 5+5 Joint Military Commission (JMC) to promote national reconciliation through the full implementation of the 2020 ceasefire agreement.
He added that the "Libyan people deserve to have a unified army capable of defending the sovereignty of their country, just as they deserve a democratically elected government that represents a united Libya."
Ordman said that the US looked forward to partnering with a unified Libyan military. "It is a challenging path, but one that will profoundly help Libya once realized," the US Embassy said in a tweet.