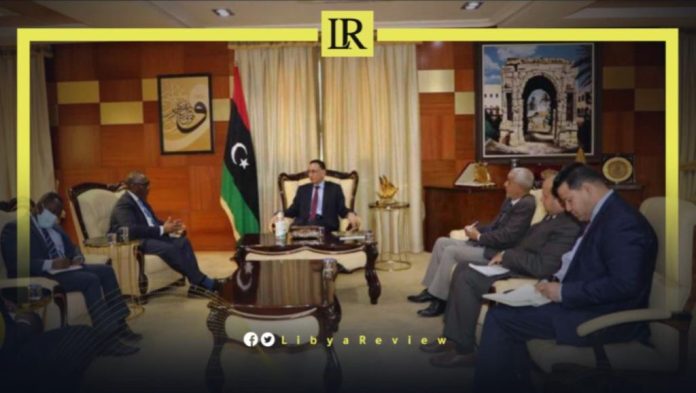 Ghana's Ambassador to Libya, Samuel Adotey Anum affirmed Accra's desire to enhance cooperation with Libya in various fields, and its keenness to increase trade.
He referred to the desire of Ghanaian companies to invest in the Libyan market, and vice versa.
The Ambassador met with Libya's Minister of Economy and Trade, Mohamed Al-Hwaij in Tripoli.
They discussed files of common interest, and ways to enhance economic and commercial cooperation.
Al-Hwaij stressed the importance of strengthening bilateral trade. He confirmed the Libyan government's desire to increase the volume of trade with the African market.
The meeting was attended by the Director of the Department of Foreign Trade and International Cooperation at the Ministry, and the Commercial Attaché at Ghana's Embassy.
In a related context, the Chairman of the Foreign Affairs Committee of the Libyan Parliament, Youssef Al-Agouri said that "strengthening mutual coordination between Libya and Greece is necessary for the stability of the eastern Mediterranean region."
This came during Al-Agouri's meeting with the Consul-General of Greece in Benghazi, Stavros Venizelos. They discussed a number of issues of mutual interest. As well as ways to enhance cooperation in the fields of healthcare, economy, and reconstruction.
The two tackled the latest developments in the exclusive economic zones of both countries, and the demarcation of their maritime borders.
Venizelos expressed his joy at assuming his duties as Consul General in Benghazi, stressing Greece's keenness to strengthen its relations with Libya in all fields.
He noted that the Consulate will begin granting visas from Benghazi, to facilitate travel procedures for all Libyan citizens.