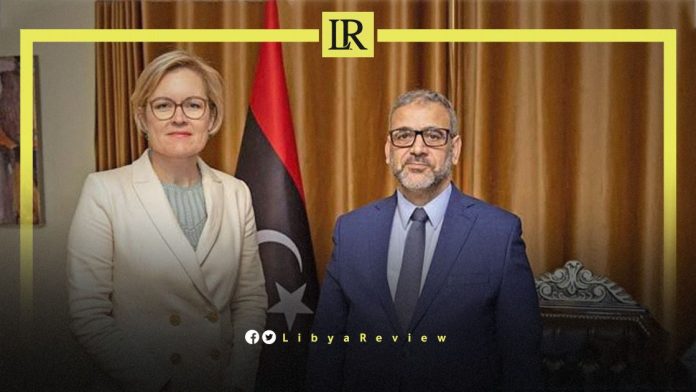 On Sunday, the British Ambassador to Libya, Caroline Hurndall stressed the need to "preserve and expand the democratic space in Libya."

The Ambassador also condemned the attempt of armed militias to prevent members of the High Council of State (HCS) from holding a session devoted to discussing sovereign positions, and the executive authority.

The remarks came during her meeting with the Head of the HCS, Khaled Al-Mishri, at his office in Tripoli.

The two discussed local and international efforts aimed at resolving the political crisis in the country. They also affirmed the importance of reaching a consensus between the Parliament and the HCS on a constitutional basis, and single executive authority.

Hurndall also expressed her rejection of the use of force in political disputes.

Last week, armed groups prevented the HCS from holding a meeting in Tripoli.

Al-Mishri accused the outgoing Prime Minister of the Government of National Unity (GNU) Abdul-Hamid Dbaiba of being behind their actions in order to "delay the elections".

Notably, the Libyan Parliament Speaker, Ageela Saleh denounced such acts against the HCS.

Saleh said what happened represented a "threat to the lives of the members of the HCS and a violation of their personal freedom guaranteed to them by law." He also called on the Attorney General to open an investigation into the incident and to hold those responsible to account and bring them to justice.

On Monday, Al-Mishri called on Attorney General, Al-Siddiq Al-Sour to "open an investigation into Prime Minister Dbaiba and prevent him from travelling until all investigations are completed."

According to the complaint filed by Al-Mishri, he accused Dbaiba of "violating the state authorities and preventing them from carrying out their duties." As well as "hindering the political process leading to elections, abusing his powers, and violations against the political rights of Libyan citizens."

Last week, Al-Mishri affirmed the need for a unified government to be capable of extending its influence over the whole country and holding national elections.