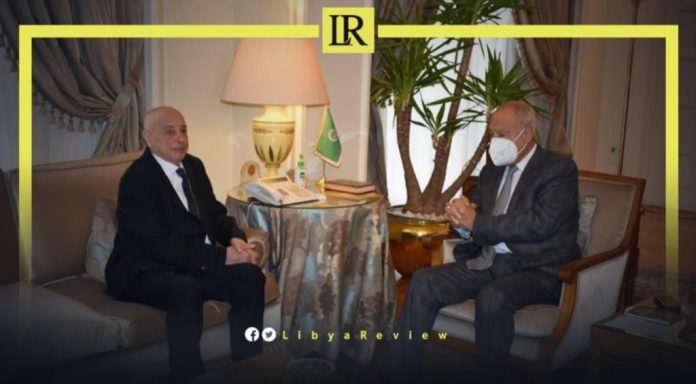 On Monday, the Secretary-General of the League of Arab States, Ahmed Aboul-Gheit received the Speaker of the Libyan Parliament, Ageela Saleh in Cairo.
Aboul-Gheit renewed the League's "support for advancing the course of the political process in Libya, and resuming dialogue on creating a constitutional basis on which elections will be held."
The two sides "exchanged views on developments in the situation in Libya," according to the official Spokesman, Jamal Rushdi.
Aboul-Gheit stressed the importance of "serious efforts by all actors to end all manifestations that threaten the country's unity, sovereignty, and territorial integrity."
For his part, Saleh praised the League's role in the Libyan crisis, and its support for efforts to advance dialogue among Libyans.
Last month, Saleh sent an official letter to Aboul Gheit regarding the invalidity of any memorandums of understanding concluded by the Government of National Unity (GNU) headed by Abdel-Hamid Dbaiba. He noted that "the GNU has no legal effect and does not bind the Libyan state."
According to the Parliament's Spokesman, Abdullah Blaiheg, the letter noted that the GNU's mandate had constitutionally ended, in accordance with the terms of the political agreement. As it had failed to carry out its duties and tasks specified in the roadmap issued by the Libyan Political Dialogue Forum (LPDF) in December 2020.
"This government hasn't sought to maintain the country's national unity, but it divided the Libyans, and allied with militias in order to stay in power. In addition to working to obstruct the holding of elections," according to the letter.
"This government failed to put an end to the clashes between its affiliated militias and gangs in Tripoli. At least 40 Libyans were killed during the clashes in Tripoli on 27 August," he added.
Blaihaig said that the GNU was "involved in concluding memoranda of understanding and agreements for oil and gas exploration in the economic waters of the eastern Mediterranean with Turkey, in violation of the text Article VI, the tenth paragraph of LPDF."