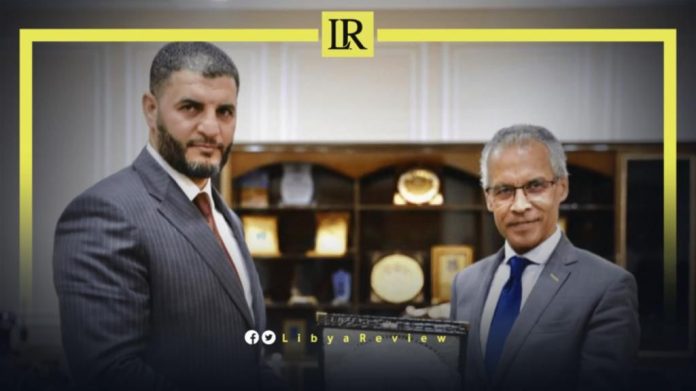 The Minister of Interior in the Libyan Government-designate, Emad Al-Trabelsi met with the French Ambassador to Libya, Mustafa Maharaj and his accompanying delegation. They discussed bilateral security cooperation, and ways to develop existing cooperation.

During the meeting, Al-Trabelsi invited his French counterpart to visit Libya, and stressed the importance of forming joint technical committees. This is to "put in place the appropriate practical mechanisms to start implementing agreements, in a way that serves the joint common interest."

Maharaj affirmed his support for the efforts made by the Ministry of Interior and opened horizons for serious cooperation in the security fields.

Days ago, the Libyan Minister of Oil and Gas, Mohamed Aoun met with Maharaj and his accompanying delegation in Tripoli.

Aoun gave a "brief overview of the history of the oil and gas sector, Libyan oil laws, and development, which clarifies the role and tasks of the ministry and its relationship with the National Oil Corporation (NOC) and the institutions of other countries."

Aoun touched on the development of the oil and gas sector, and the ministry's plans. He stressed the importance of experienced international companies contributing to the development and exploration of both on and offshore fields, which have yet to be explored.

They discussed benefiting from the experience of the French Institute of Petroleum to contribute to the development of Libyan cadres, and the exchange of experience and expertise in the oil and gas sector.

The French Ambassador presented his vision of the prospects for cooperation and contribution to the development of the Libyan oil sector. He pointed to the history of French companies in the Libyan oil sector, exceeding half a century.

Libya has been in chaos since a NATO-backed uprising toppled longtime leader Moammar Gadaffi in 2011. The county has for years been split between rival administrations, each backed by rogue militias and foreign governments.

The current stalemate grew out of the failure to hold elections in December, and the refusal of Prime Minister Abdel-Hamid Dbaiba, who led the transitional government, to step down. In response, the country's eastern-based Parliament appointed a rival Prime Minister, Fathi Bashagha, who has for months sought to install his government in Tripoli.