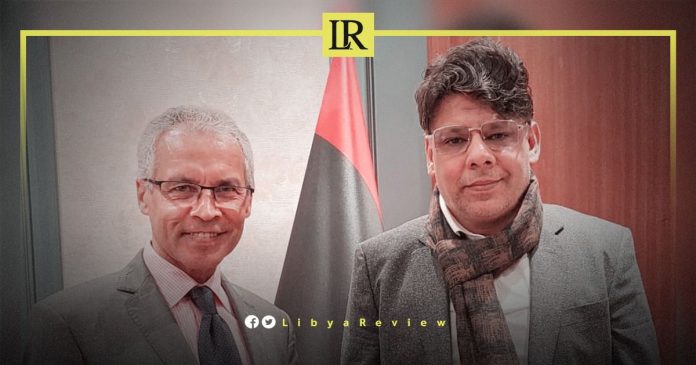 On Thursday, the French Ambassador to Libya, Mostafa Mihraje held talks with Libyan Attorney-General, Al-Siddiq Al-Sour in Tripoli.

According to Mihraje, Al-Sour informed him about "his tremendous task to build a strong rule of law, and to put Libyan citizens under the protection of the law".

In turn, the French diplomat said that he was "fully supportive of Al-Sour's actions through training, and sharing experience."

Last week, members of Libya's High Council of State (HCS), Abdul Rahman Al-Sweihli, Mustafa Al-Tariki, Naima Al-Hami and Youssef Al-Ahyool appealed at the Supreme Court against "the unconstitutionality of the Libyan Parliament's Resolution No.2 of 2021, regarding appointing Al-Siddiq Al-Sour as the Attorney General."

Notably, a number of MP's met with Al-Sour in Tripoli, to "show support for his great efforts in achieving justice and combating corruption."

The Libyan Parliament said in a statement on Tuesday, that the meeting dealt with the important role played by the Attorney General. The MP's expressed their "rejection of the campaign carried out by 'certain parties' against the Attorney General, and the other judicial agencies."

Notably, the National Commission for Human Rights in Libya (NCHRL) has expressed its rejection of "campaigns of incitement, abuse, and questioning of the legitimacy of the judicial power structures, led by the Office of the Attorney General."

The NCHRL condemned the "escalation of campaigns of insulting the judicial authorities, questioning the legitimacy of the heads of their structures, and interfering in their affairs, in many forums and events."

It added that "such campaigns aim to plunge the judicial authorities into the circle of political conflict. The latest of which is challenging the legality of Attorney General, Al-Siddiq Al-Sour on the grounds that Libyan Parliament Resolution No. 2 of 2021 is unconstitutional."

The commission described what was happening as "a deliberate abuse of the judicial authority, aimed at undermining it and hindering its efforts to consolidate the rule of law and justice, end impunity, protect rights and freedoms, combat corruption, crime, and organized crime."

The NCHRL affirmed its "total rejection of such encroachments on the judicial authorities, represented by the Office of the Public Prosecution and the Attorney General. This deliberately weakens its prestige and prevents it from carrying out its duties, in accordance with its original national jurisdiction and jurisdiction."

Earlier this month, the Head of the HCS, Khaled Al-Mishri called on Al-Sour to "open an investigation into the Prime Minister of the Government of National Unity (GNU), Abdel-Hamid Dbaiba and prevent him from travelling until all investigations are completed."

Al-Mishri's call comes after a group of armed militias affiliated with the GNU, prevented members from holding a session devoted to discussing sovereign positions and the executive authority.