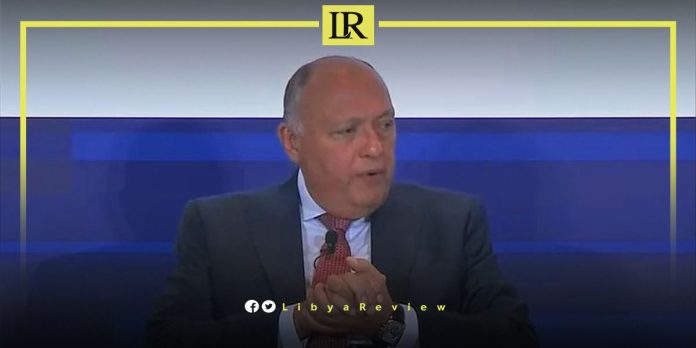 Egyptian Foreign Minister Sameh Shoukry said, "The Repercussions of the situation in Libya have destabilizing effects."

Sameh Shoukry made his remarks during a session at the eighth edition of the Rome Med – Mediterranean Dialogues conference, which is being held in the Italian capital from the 1st to the 3rd of December.

He affirmed that Egypt will continue to strengthen stability in the Middle East and the African continent through enhancing ways of joint cooperation.

"There is no way to implement the existing agreements, and adhere to legal and political entitlements, without specific mechanisms and timeframes," the Egyptian top diplomat added.

Shoukry stressed the importance of holding presidential and legislative elections synchronously to end the stalemate and realise the aspirations of the Libyan people based on an intra-Libyan solution and respect for the elected legislative body.

Last week, Shoukry held a meeting with Abdoulaye Bathily, the recently appointed special representative of the United Nations (UN) Secretary-General and Head of the UN Support Mission in Libya (UNSMIL) in Cairo.

During the meeting, the Egyptian Foreign Minister urged for the full exit of mercenaries and foreign fighters from Libyan lands.

Egypt's top diplomat also called for "an active follow-up" by the international community on the parties in charge of implementation, according to a statement released by the Egyptian Foreign Ministry following the meeting.

The UN and international decisions in respect of the exit of all foreign forces, mercenaries, and foreign fighters from Libya should be implemented within a specific timeframe, Shoukry stressed, urging support for the 5 + 5 Joint Military Committee (JMC).

Libya's 5+5 JMC, formed in 2020, was one of three tracks in the UN-backed settlement process meant to ensure the withdrawal of all foreign fighters who have been brought by different foreign powers supporting the East and West camps.

In early 2021, an interim government headed by Abdelhamid Al-Dbaiba was established as part of the UN's track to guide the country toward the December 2021 elections.

The long-awaited Libyan national elections ended up being suspended over differences between both competing administrations in the east and west of the country.

In February 2022, the East-based Parliament appointed Fathi Bashagha as Prime Minister-designate to replace Tripoli-based Al-Dbaiba, arguing that Al-Dbaiba's mandate expired after the faltering of the scheduled elections.