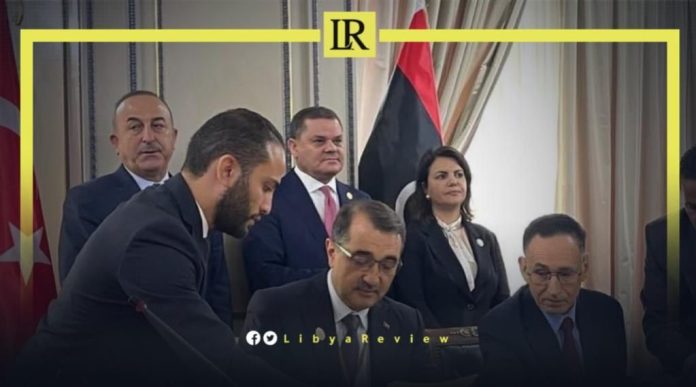 On Sunday, five lawyers filed an appeal to the Administrative Judicial Department of the Tripoli Court of Appeals, against the oil exploration deal signed between the Government of National Unity (GNU) and Turkey, describing it as "Illegal"
According to the appeal, the lawyers explained that the GNU, headed by Abdel-Hamid Dbaiba "does not have the right to conclude any agreements. The deal was called a memorandum of understanding (MoU), but, in fact, it is a full and wide-ranging oil agreement," they noted.
The lawyers pointed out that the agreement "violates many aspects of the oil law, most notably the lack of Turkish companies' experience in this field."
They affirmed that the agreement "violated the State Audit Bureau law in controlling public funds. As well as the state finance law of 2008 regarding the management of state funds."
"The agreement also violates Law No. 69 of 1970 on limiting the import, sale, and distribution activity for petroleum products to the NOC. In addition to the agreement's violation of the principle of gradual legislation," they noted.
Last month, Libya and Turkey signed a series of economic agreements that included potential energy exploration in maritime areas.
The agreements will allow for oil and gas exploration in Libyan waters, and come three years after the two countries signed a maritime border deal, Turkish Foreign Minister Mevlüt Çavuşoğlu said after signing the MoU in Tripoli.
The EU last month said the deal infringes upon the sovereign rights of third states, and doesn't comply with the United Nations Law of the Sea.
The Greek Foreign Ministry has said in a statement that it is following developments in Libya very closely, "especially the signing of a memorandum of cooperation between the GNU and Turkey in the field of hydrocarbons."
An Egyptian-Greek statement added that Greece "holds sovereign rights in the area, which it intends to defend by all legal means, in full respect to the International Law of the Sea."
Libya, home to Africa's largest crude oil reserves and a member of OPEC, has largely been wracked by chaos since Muammar Gaddafi was toppled in 2011.