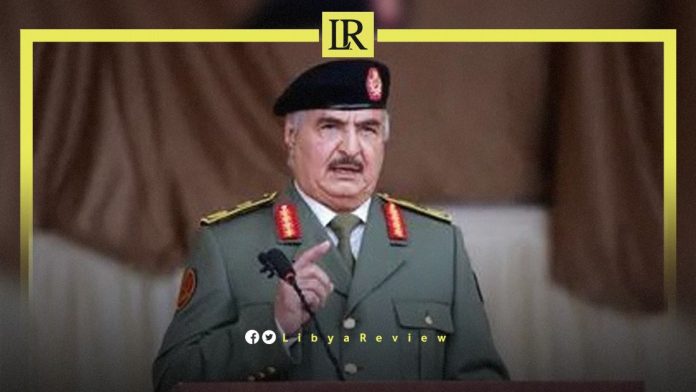 The Commander-in-Chief of the Libyan National Army (LNA), Field Marshal Khalifa Haftar announced his rejection of any constitutional rule that prevents military personnel from running for the expected Presidential elections.

Haftar said in a speech during his visit to the city of Ajdabiya, that "those who demand the prevention of military from participating in the elections express their weakness in political practice."

He noted that "those politicians fear that their boxes will remain empty and the boxes of their military competitors will be filled with votes." He stressed the need to "leave the choice for the people to choose their leaders."

Haftar stated that "the executive authority and armed militias' control over the capital, Tripoli, led to the failure of all efforts to resolve the Libyan crisis." He added that "state institutions have turned into fragile entities subject to armed groups."

"The continuation of this situation in Tripoli may push cities and villages that enjoy security and safety in Libya to take a decisive decision to manage their affairs and institutions, and draw a roadmap, in isolation from the capital," the LNA Commander warned.

He called on all militias to "leave their weapons, which have caused great harm to the people and the state, and obstructed all good endeavours to find a solution."

The statements comes before a planned meeting between Parliament Speaker, Ageela Saleh and the Head of the High Council of State (HCS), Khaled Al-Mishri. They will discuss unifying the executive authority, and resolving disputes over the constitutional basis for the elections.

Notably, Saleh and Al-Mishri agreed to unify the executive authorities of Libya by 2023. They held a meeting in Morocco to discuss the political blockage, the constitution, and the distribution of sovereign positions.

During a joint press conference at the headquarters of the Moroccan Ministry of Foreign Affairs, Al-Mishri said: "2023 will not come unless the executive authority and sovereign positions are united."

"I agreed with Saleh that the division of institutions led to poor conditions for citizens, and a deepening of the crisis. We agreed on 2 out of 7 sovereign positions," he added, without mentioning further details on the agreed positions.

The duo also affirmed the "necessary procedures for the Parliamentary and Presidential elections as soon as possible."

However, the HCS voted unanimously to prevent the candidacy of dual nationals and military personnel from the presidential elections. The step could maintain the ongoing dispute between the HCS and Parliament over the constitutional base and make it difficult to set a date for the elections.