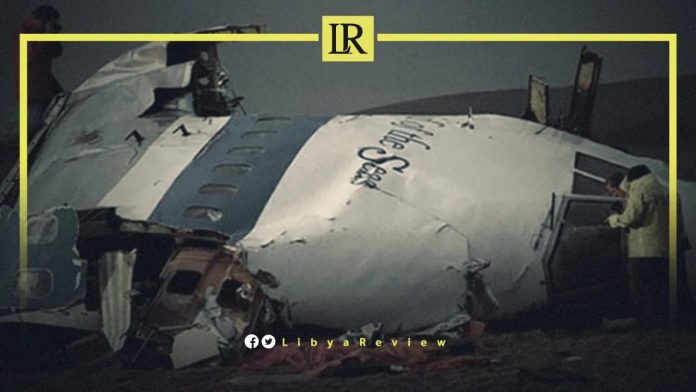 On Sunday, the Libyan National People's Movement (LNPM) condemned the Tripoli-based Government's handover of the Lockerbie bombmaker, Abu Agila Masud, to the United States (US) authorities.
The Libyan man faces charges of making the bomb that destroyed Pan American Airways flight 103 over Lockerbie 34 years ago is in US custody, Scottish authorities announced on Sunday.
In a statement, the LNPM said, "the move is a clear violation of Libyan law and the Libyan-US agreement regarding the Lockerbie case."
It added that "the handover of Abu Agila Masud comes in return for the US support for the Prime Minister of the Government of National Unity (GNU), Abdelhamid Al-Dbaiba, to remain in power," according to the statement.
The LNPM called to hold Al-Dbaiba's government morally responsible and to prosecute it locally and internationally for this act that infringes on the rights and dignity of Libyan citizens.
Former Libyan intelligence officer Abdelbaset al-Megrahi was found guilty of mass murder in 2001.
A Spokesperson for the Crown Office said, "the families of those killed in the Lockerbie bombing have been told that the suspect Abu Agila Masud is in US custody."
The US announced charges against LNPM two years ago, alleging that he played a key role in the bombing on 21st of December 1988.
Last month it was reported that Abu Agila Masud had been kidnapped by a militia group in Libya, leading to speculation that he was going to be handed over to the American authorities to stand trial.
London-based newspaper Asharq Al-Awsat reported last November that the Libyan Prime Minister Al-Dbaiba is accused of using Abu Agila Masud as a "scapegoat" for the US, in return for "his government's continuation in the power it has held for nearly two years."
Citing an "official close to Al-Dbaiba", Asharq Al-Awsat reported that Abu Agila Masud's case has always been a focus of American attention during meetings that US officials held with Al-Dbaiba during sporadic periods in recent times.
Following reports of his kidnapping, Libya's House of Representatives (HoR) and High Council of State (HCS) announced their rejection of any attempts to reopen the Lockerbie case against Libya.