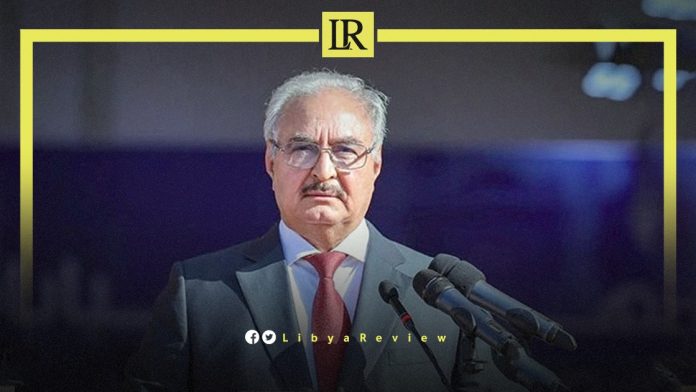 On Saturday, the Commander-in-Chief of the Libyan National Army (LNA), Field Marshal Khalifa Haftar said that "the unity of Libya is a red line, and we will never allow any encroachment on it."

During his speech on the occasion of the 71st anniversary of Libya's independence, he confirmed that, "the LNA General Command announces a final opportunity through which a roadmap is drawn, and elections are held."

"Libya is still one and indivisible," warning "those who try to harm it," Haftar noted.

"We recall that we are the first to call for free, fair, and transparent elections, and the United Nations Support Mission in Libya (UNSMIL) must shoulder its responsibility to solve the Libyan crisis," Haftar confirmed.

"We stress the necessity of the equitable distribution of oil revenues, without marginalization," he pointed out.

"The Libyans are the only ones capable of solving their problems, and reaching a single unified Libyan state. There must be tolerance and a renunciation of violence. Religious and media discourse must be changed to unify the ranks of the Libyan nation. We call on all cities and regions of western Libya to a Libyan-Libyan dialogue, and to reunite the people," the LNA Commander stated

"The Libyan people place full responsibility on those who separated them, and illegally handed over a citizen. We assure the family of Abu Ajila Masoud (who was handed over to the US over his alleged involvement in the 1988-Lockerbie bombing) that we will not leave them, and we demand a briefing on the circumstances of his arrest," he stressed.

On the 24th of December, Libyans celebrate their country's Independence Day, amid international appeals for political leaders to be a driving force in resolving the decade-long crisis.

Prior to its independence, Libya was occupied by several nations for decades, primarily Italy since 1911. It was not until 1947, that both Italy and France relinquished their claims to the country.

Following the end of World War II, the United Nations called for Libya to be granted independence from European rule, ultimately establishing the United Kingdom of Libya. This unified the three Libyan provinces of Cyrenaica, Fezzan, and Tripolitania. Subsequently, King Idris Al-Senussi was placed on the throne in 1951, and later ousted in 1969 by Muammar Gaddafi.

Today, 24 December is celebrated across the world by Libyans, reminding them of the nation's long history under foreign rule. Independence Day marks the nation's leap towards freedom, resuming its rightful status as Libya's highest national holiday in 2011, and commemorating the Libyan people's drive for independence.