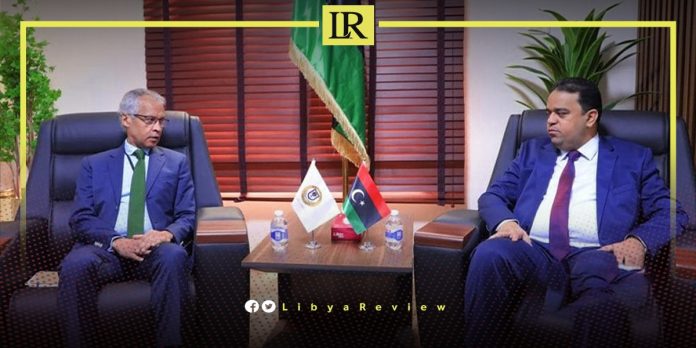 The Libyan Minister of Labour and Rehabilitation, Ali Al-Abed held a meeting with the French Ambassador to Libya, Mostafa Mihraje. They discussed ways of cooperating in the fields of labor and vocational rehabilitation for youth, and people with special needs.
During the meeting, the two parties also discussed ways to create jobs for people with special needs in the private sector. The meeting also touched on mechanisms for implementing the National Rehabilitation and Reintegration Project.
Ambassador Mihraje congratulated the Libyan people on the country's Independence Day.
"On the occasion of the 71st anniversary of Libya's independence, I extend my warmest congratulations and blessings to the Libyan people," adding that he wished "Libyans the future they aspire to in terms of the unity, security, and sovereignty of Libya, and the achievement of freedom, democracy, and the rule of law."
On the 24th of December, Libyans celebrate their country's independence day, amid international appeals for political leaders to be a driving force in resolving the decade-long crisis.
Prior to its independence, Libya was occupied by several nations for decades, primarily Italy since 1911. It was not until 1947, that both Italy and France relinquished their claims to the country.
Following the end of World War II, the United Nations called for Libya to be granted independence from European rule, ultimately establishing the United Kingdom of Libya. This unified the three Libyan provinces of Cyrenaica, Fezzan, and Tripolitania. Subsequently, King Idris Al-Senussi was placed on the throne in 1951, and later ousted in 1969 by Muammar Gaddafi.
On this occasion, the Head of the United Nations Support Mission in Libya (UNSMIL), Abdoulaye Bathily reiterated his call for the need to hold free and fair elections in Libya.
He encouraged all Libyan leaders to "agree on a solution based on a national compromise, and avoid escalatory action that would threaten Libya's already fragile stability and unity."
According to a statement published by UNSMIL, Bathily stressed that the UN "will spare no effort in working with all parties constructively, inclusively, and firmly to support Libyan leaders to prevent further division and avoid wasting more time.
"This year, however, Independence Day feels bittersweet, as it also marks the first anniversary of the postponement of general elections which were supposed to be held on 24 December 2021," Bathily said.
"The patience of the Libyan people is running out. It is time to prioritise the needs of the nation and the public – including the 2.8 million Libyans who already registered to vote," he added.