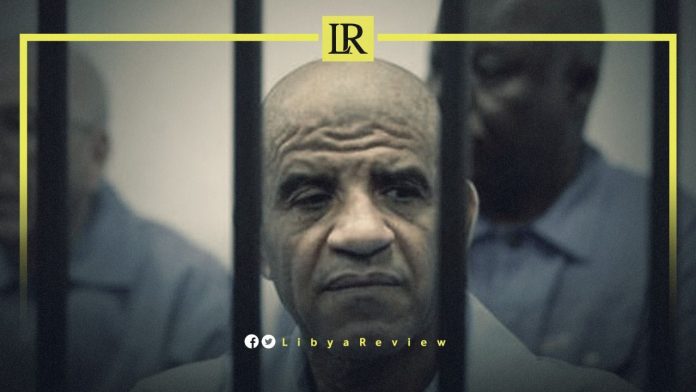 The family of Gaddafi's Intelligence Chief, Abdullah Al-Senussi threatened to "close all vital institutions in the south of the country, if the government does not release him and his companions."

In press remarks, Al-Senussi's son said the Government of National Unity (GNU) led by Abdel-Hamid Dbaiba "cannot be trusted."

"We ask the people of Fezzan, the East, and the West of Libya, to stand by us because this government cannot be trusted. Dbaiba has neither transparency nor credibility for us in the Southern region," he said.

He noted that the health condition of his father is unstable, and that he underwent three heart surgeries. "We thank everyone who fights against the extradition of Al-Senussi, and everyone who stands against Dbaiba and his family," he noted.

Last week, the Head of the Supreme Council of the Fezzan Tribes, Harun Ali Arhuma threatened to close the oil fields in the southern region if the government took steps to extradite Al-Senussi.

Arhuma held the GNU responsible for the safety of Al-Senussi.

In statements to Libya Al-Hadath, he said that there is news circulating that Washington has asked the GNU to extradite Al-Senussi. "If that happened, there will be an unexpected escalation," he warned.

"The valves of the Man-made River, and the southern oil fields will be closed," he said.

Arhuma said that Al-Senussi is ill inside his prison cell. "The case (Lockerbie) was settled politically and legally between Libya and the United States, and ended with an agreement and compensation paid in the past," he explained.

Libyan sources told Russia's Sputnik news agency that Washington has asked GNU to hand over Al-Senussi. The sources warned that some Libyan tribes will escalate the situation against the GNU in the coming days, if political prisoners are not released.

A number of southern Libyan tribes have recently warned the government against harming Major General Abdullah Al-Senussi. The tribes also condemned the extradition of former intelligence officer, Abu Ajila Masoud to the United States. "We refuse to hand over everyone in prison, otherwise Fezzan will have its word and cut off everything, and we demand the departure of failed governments," they said in a statement on Saturday.

Ashraf Abdel-Fattah, a member of the Supreme Council of Libyan Tribes told Sputnik that the Libyan tribes are "serious in their warnings about the possible extradition of Al-Senussi."

He added that the tribes "could resort to closing each of the man-made river valves, the main roads between cities, as well as the oil fields."

However, Dbaiba said in an interview with Al-Arabiya news that there are no intentions to extradite Al-Senussi to the United States. These statements seemingly came after great pressure and discontent from the Libyan public, after the GNU handed over Abu Ajila to the United States.