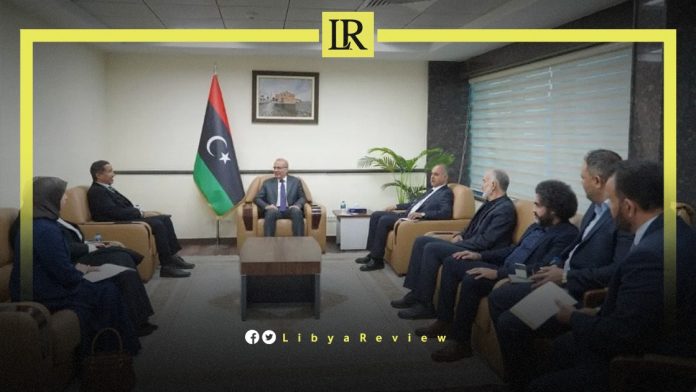 On Monday, the Deputy Head of the Libyan Presidential Council, Abdullah Al-Lafi met with candidates for the Parliamentary elections from the eastern region, who are interested in the National Reconciliation project.
The meeting was held in Tripoli, and attended by a former member of the National Transitional Council, Dr. Ali Al-Issawi.
Al-Lafi reviewed the steps taken in the reconciliation project, and confirmed that this project "aims to stabilize Libya and lead it to elections."
He stressed that the project "is not tied to a specific time, and is one of the most important pillars of peacebuilding in Libya." He added that "this project is the property of all Libyans, and it is supervised by the Presidential Council, in cooperation with a variety of experts from state institutions."
The candidates confirmed that the project is "proceeding at a steady pace, and its results will be fair." They affirmed their desire for the success of the project "as a lifeline for Libya," and called for its support in order to achieve its desired goals.
Days ago, the Head of the United Nations Support Mission in Libya (UNSMIL), Abdoulaye Bathily reiterated his call for the need to hold free and fair elections in Libya.
He encouraged all Libyan leaders to "agree on a solution based on a national compromise, and avoid escalatory action that would threaten Libya's already fragile stability and unity."
According to a statement published by UNSMIL on the 71st anniversary of Libya's Independence Day, Bathily stressed that the UN "will spare no effort in working with all parties constructively, inclusively, and firmly to support Libyan leaders to prevent further division and avoid wasting more time.
"This year, however, Independence Day feels bittersweet, as it also marks the first anniversary of the postponement of general elections which were supposed to be held on 24 December 2021," Bathily said.
"The patience of the Libyan people is running out. It is time to prioritize the needs of the nation and the public – including the 2.8 million Libyans who already registered to vote," he added.
The UN Envoy stressed that the Libyan leaders must "map an end to the transitional period, bring the country to elections, and respect the people's right to determine their future."