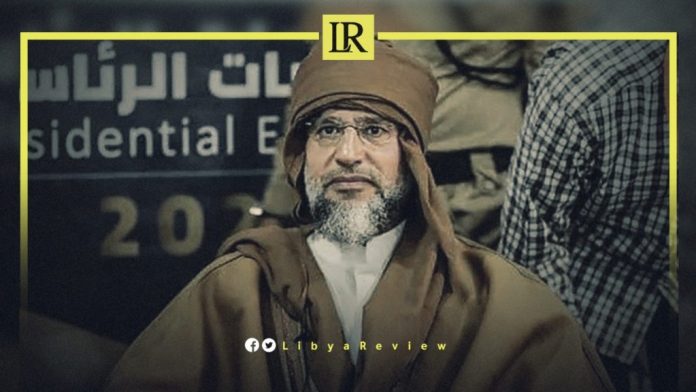 Member of the Libyan Parliament, Ali Al-Takbali said that Saif Al-Islam Gaddafi "wants the right to run for elections, and this is his right. In my opinion, as a Libyan citizen, no one should be excluded."

In statements to Independent Arabia, Al-Takbali added: "We must not let the extremists and others known for their domination of Libyans run for elections, and prevent this person from running. This is not fair."

He stressed that "Saif Al-Islam tried to give his opinion, and I think that he will not affect the scene much, because those who want to prevent him are not only Libyans, but also from abroad."

Notably, Saif Al-Islam accused the leading political parties of "confiscating the will of five million Libyans, and giving the reins to the hands of five people to control the fate of Libya."

In a statement published by his political team, he confirmed that "when the electoral process began, the so-called constitutional basis was not open for debate, or a disputed issue, except after the electoral process was disrupted for reasons called "force majeure" so that the fate of the Libyan people and their future are mortgaged to such constitutional basis."

The Presidential candidate explained that the "controversial points included in that basis were raised to prevent the military and dual nationals from running for elections, with the aim of excluding certain individuals."

He added that members of the High Council of State (HCS) and the Parliament have "finally agreed to exclude those against whom judicial rulings were issued, even if those rulings were not final so that those people would not be allowed to run for elections even if they were acquitted. This constitutes a clear bias against a specific person, and will lead to the failure of the elections, which everyone sees as the only way out for Libya from its intractable crisis."

Saif Al-Islam indicated that "those who have previously agreed to exclude a specific person from running for elections, are now divided over other people from the military and dual nationals"

The statement accused all political parties of "bringing the country into an endless cycle, as if the country's problem was reduced to two paragraphs of the constitutional basis. This is a clear disregard for the tragedy of Libya, and the suffering of its people for nearly 12 years."

The son of late Libyan Leader Muammar Gaddafi confirmed that the controversial items related to the constitutional basis are "nothing but a pretext for failing the electoral process."

The political team said that everyone should be allowed to run for the elections. As they are being organised at a critical stage and in exceptional circumstances, which require the participation of all candidates.