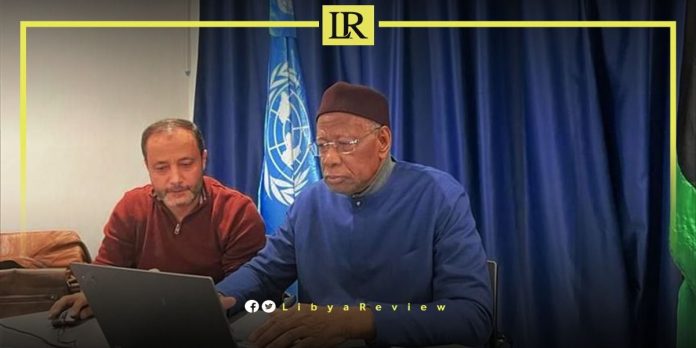 The United Nations (UN) Secretary-General's Special Representative to Libya and the Head of the United Nations Support Mission in Libya (UNSMIL), Abdoulaye Bathily, congratulated all Libyans on the New Year.
According to UNSMIL's Twitter account, UNSMIL said, "I hope 2023 will be a year to make up for lost opportunities and find a lasting solution that paves the way for holding elections and building sustainable peace and prosperity in Libya."
Last month, the Chairman of the Libyan High National Election Commission (HNEC), Emad Al-Sayeh, held a meeting with experts from the UN Elections Support Team in Libya.
The meeting was held in Tripoli, and was attended by member, Abdul Hakim Al-Shaab and a number of department directors.
The meeting discussed plans and projects for developing work in the HNEC. This included reviewing the technical and technological procedures for developing the voter identity verification system.
This is a continuation of the series of meetings that the HNEC has been holding to follow up on the level of readiness to secure Libya's elections.
Notably, Libyans were bitterly disappointed at the failure to hold the Presidential and Parliamentary elections that were scheduled for the 24th of December 2021.
The failure resulted from disagreements between the various parties in drawing up a consensual constitutional basis, necessary for the elections and setting the conditions for candidates. Especially those related military figures and dual nationals, whose candidacy is supported by the Libyan Parliament, and rejected by the High Council of State (HCS).
The differences over the election laws continue between the two bodies. The intervention of former UN Adviser to Libya, Stephanie Williams, also failed to reach a compromise in this regard.
Libya has been in chaos since a NATO-backed uprising toppled longtime leader Moammer Gaddafi in 2011. The county has for years been split between rival administrations, each backed by rogue militias and foreign governments.
The current stalemate grew out of the failure to hold elections in December, and the refusal of Prime Minister Abdelhamid Al-Dbaiba, who is leading the transitional government, to step down. In response, the country's eastern-based Parliament appointed a rival Prime Minister, Fathi Bashagha, who has for months sought to install his government in Tripoli.