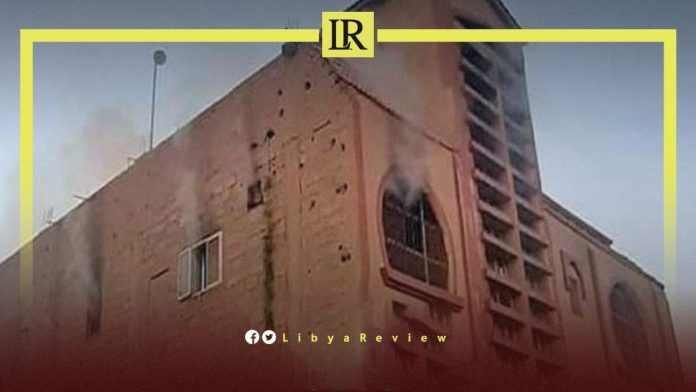 The Kufra Municipal Council condemned the burning of the headquarters of the Administrative Control Authority branch in the municipality, on Friday. It warned against any attempt to spread chaos in the city, according to a statement published by the media office of the Kufra Municipal Council.

Locals reported on social media that the headquarters of the Administrative Control Authority branch in Kufra was subjected to a fire at 3:00 a.m. on Friday. They suggested that it was "arson, because the main door was forcibly opened."

The Kufra Municipal Council said that the incident is a dangerous precedent after the security stability that the city and its suburbs have witnessed in recent years.

It also called on the security services to uncover the circumstances of the accident and prosecute the perpetrators and bring them to justice.

The Mayor of the Kufra Municipal Council, Abdul Rahman Aqoub, conducted an inspection visit to the headquarters of the Administrative Control Authority. "It appears that it was arson," the municipality said in a statement.

In July 2022, protesters set fire to the Parliament headquarters in Tobruk, East of the country. the Speaker of the Libyan House of Representatives (HoR), Ageela Saleh, accused supporters of the former regime of deliberately setting fire to the Parliament.

In press remarks to Al-Arabiya news, Saleh said burning the Parliament headquarters is a premeditated act to overthrow the legislative authority.

"The supporters of the former regime stormed the Parliament headquarters and we hold them responsible for that. We will deal with those who burned the Parliament headquarters in accordance with the law, and no one will be spared," he added.

He claimed that the demonstrators marched to the Parliament headquarters "without specific demands." However, protesters have called for holding elections as soon as possible and also called for a solution to the power outage.

Saleh also blamed the outgoing Government of National Unity (GNU) led by Abdelhamid Al-Dbaiba for failing to hold the elections.

"I know the extent of the suffering of the Libyans. The Central Bank of Libya (CBL) did not liquidise funds to the newly approved government of Fathi Bashagha, and also the salaries were not paid," he said.