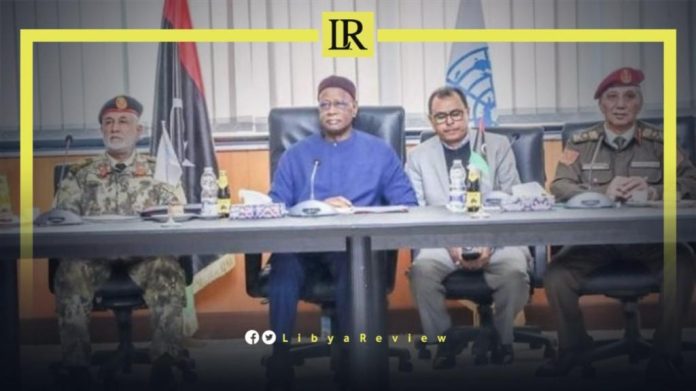 On Sunday, Libya's 5+5 Joint Military Commission (JMC) resumed its meetings in Sirte.
In a statement, the Director of the Moral Guidance Department of the Libyan National Army (LNA), Major General Khaled Al-Mahjoub said that the meeting "discussed the ceasefire provisions, the work of international and local observers, and the unification of the military institution."
He added that members stressed the "need for the removal of mercenaries and foreign forces from the country, and called on all relevant parties to support the implementation of the Geneva Agreement with all its provisions, as they meet the demands of most Libyans."
The military official stated that the talks also tackled prisoner exchanges, in addition to a number of other issues.
The meeting was attended by the Head of the United Nations Support Mission in Libya (UNSMIL), Abdoulaye Bathily, and Libyan and international ceasefire monitors.
The JMC last met in October 2022 in Sirte. They agreed to form subcommittees to map out the locations of armed groups, and implement the deportation of foreign forces, as per the 2020 ceasefire agreement.
They had previously met in Egypt, Tunisia, and Spain from May to August 2022 respectively, and reviewed consolidating the ceasefire agreement.
During his first briefing before the UN Security Council, Bathily stressed the importance of unifying the security and military institutions in the country. He also affirmed the importance of preserving the ceasefire agreement, during his meeting with the Commander-in-Chief of the LNA, Field Marshal Khalifa Haftar in Benghazi.
"On the occasion of the disarmament week, I reiterate the UN's commitment to providing technical support to the 5+5 JMC to accelerate the implementation of the ceasefire agreement, including placing the regularization of arms under the sole control of the state," Bathily tweeted on Wednesday.
He affirmed his determination to listen to all Libyan parties, and reiterated the United Nations' support for a sustainable, Libyan-owned solution to restore peace and stability to the country.