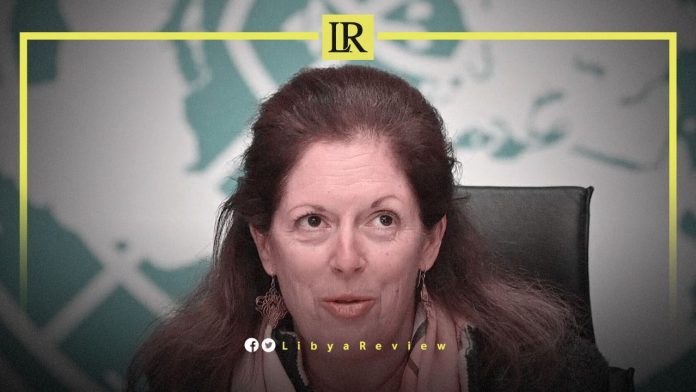 On Saturday, the former Special Adviser to the United Nations (UN) Secretary-General in Libya, Stephanie Williams, announced her vision regarding the situation in Libya, specifically with regard to the armed groups and social and economic challenges.
In an article published by the United States (US) Brookings Institution, Williams put forward mechanisms to end the current political impasse in Libya, through steps that include dissolving armed groups and reintegrating them into Libyan society.
In her article, Williams touched on the international efforts regarding this file, as well as the obstacles that it faced during the last period, and how to find innovative solutions to put an end to the crisis in Libya.
According to the article, "as we look ahead to 2023, it is easy, indeed facile, to predict the worst in Libya. Political and societal divisions persist, human rights are flagrantly violated, weapons are aplenty, negative foreign interference continues, the list goes on."
She added, "yet, the October 2020 ceasefire agreement remains intact, though not fully implemented, and the prospect of a return to the kind of large-scale warfare witnessed in 2019-20, while not inconceivable, appears unlikely."
The US diplomat added that this relative calm offers an opportunity for the US and like-minded allies — in addition to working on the seemingly intractable political process — to build on pre-disarmament, demobilization and reintegration (DDR) efforts launched last year to start tackling Libya's hybrid armed group quandary.
Notably, Libya's current political stalemate grew from the failure to hold elections in December 2021 and Prime Minister Abdelhamid Al-Dbaiba's refusal to step down. In response, the country's eastern-based Parliament appointed Fathi Bashagha, who has sought to install his government in Tripoli for months.
The protracted stand-off between the two governments led to bouts of clashes in Tripoli last year, risking the return of civil war to the oil-rich nation after months of relative calm.
The North African nation has plunged into chaos after a NATO-backed uprising toppled and killed longtime leader Moammar Gaddafi in 2011. Libya has been ruled by a set of rival militias and armed groups in the East and West.