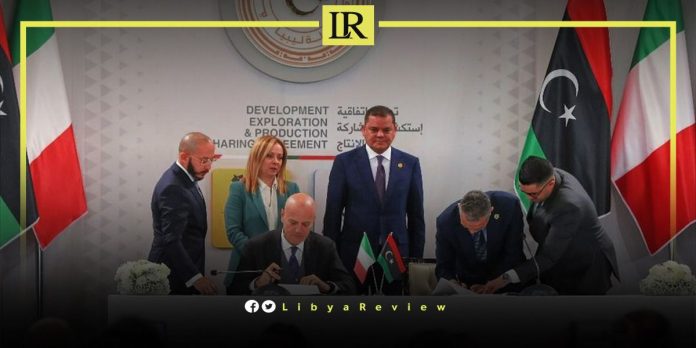 The Libyan National Oil Corporation (NOC) expects to achieve net revenues estimated at $13 billion from developing an agreement it signed with the Italian company Eni to explore and share production in the Libyan oil and gas sector.

The Chairman of the Board of Directors of Libya's NOC, Farhat Bengdara, said that the value of the investments included in the agreement amounts to $8 billion within 3 years.

During a press conference with Eni's Chief Executive, Claudio Descalzi, Bengdara added that the agreement includes the development of gas fields with reserves close to 6 trillion cubic feet and a production capacity of 750 million cubic feet per day for a period of about 25 years.

During the conference, Bengdara called on international companies to quickly resume their activity in the country, according to the declaration of lifting force majeure last December.

The development of the Libyan agreement with Eni is the first of its kind in nearly a quarter of a century. The reason for this being that the oil and gas sector in the country suffered from political turmoil, which was reflected in the presence of foreign companies in Libya.

According to Reuters, the deal, signed during a visit to Tripoli by Italy's Prime Minister, Giorgia Meloni, aims to increase gas output for the Libyan domestic market as well as exports. Meloni aims to do this through the development of two offshore gas fields.

"This agreement will enable important investments in Libya's energy sector, contributing to local development and job creation while strengthening Eni's role as a leading operator in the country," said its Chief Executive, Claudio Descalzi.

The North African nation has plunged into chaos after a NATO-backed uprising toppled and killed longtime leader Moammar Gaddafi in 2011. Libya has been virtually ruled by a set of rival militias and armed groups in the East and West.