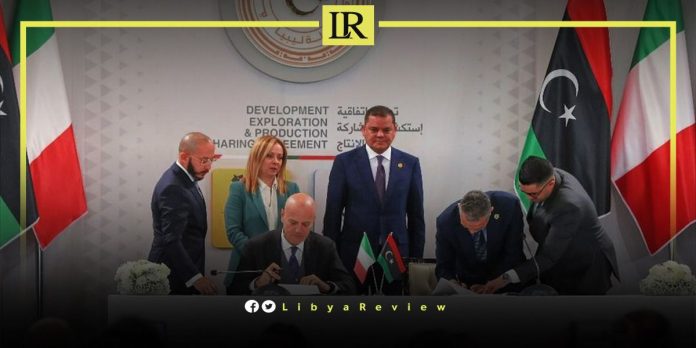 Member of the Libyan Parliament, Abdel-Moneim Al-Arfi said that the agreement signed with the Italian energy giant, Eni is "illegal and lacks the principle of disclosure and transparency."

Commenting on the statements of Oil Minister Mohamed Aoun, who rejected the agreement, Al-Arfi said that Aoun's comments "were shocking and indicated the vagueness and lack of clarity of the agreement."

He pointed out that the signing of this agreement "came to cover the shortage of Russian gas supplies. It was supposed to show transparency, and put forward the terms of the agreement to the Libyan people, and then put it up for ratification."

On Sunday, the Libyan Ministry of Gas and Oil reiterated its rejection of the deal signed between the Libyan state-owned National Oil Corporation (NOC) and Eni.

The Ministry said in a statement that the agreement was concluded, contrary to the legislation stipulated.

"This procedure requires prior approval from the Ministry of Oil and Gas to raise the share of the foreign partner (Eni), then the Ministry refers the approval to the Council of Ministers for decision. But this did not happen," it explained.

The statement said that only the Ministry of Oil and Gas is legally empowered to implement such an agreement, not the NOC.

It also urged the NOC Chairman, Farhat Bengdara "to follow the legal measures and to refer the technical and economic justifications on the basis of which this amendment was made to the Ministry of Oil and Gas."

"The NOC's unilateral decision to amend agreements encourages other partners to amend their agreements without referring to the legislation stipulated in Libyan law," the statement explained.

According to Reuters, the deal, signed during a visit to Tripoli by Italy's Prime Minister, Giorgia Meloni, aims to increase gas output for the Libyan domestic market as well as exports. Meloni aims to do this through the development of two offshore gas fields.

"This agreement will enable important investments in Libya's energy sector, contributing to local development and job creation while strengthening Eni's role as a leading operator in the country," said its Chief Executive, Claudio Descalzi.

The Libyan NOC expects to achieve net revenues estimated at $13 billion from developing an agreement it signed with the Italian company Eni to explore and share production in the Libyan oil and gas sector.