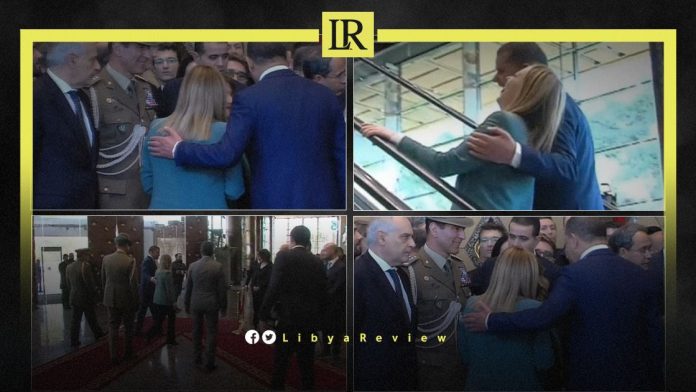 Libyans on social media criticised the exaggerated warm welcome shown by Libya's Prime Minister, Abdel-Hamid Dbaiba while receiving Italian Prime Minister, Georgia Meloni, during her visit to Tripoli on Saturday.
During the official reception ceremony at the Al-Nasr Forest halls complex, Dbaiba was spotted embracing Meloni on more than one occasion. This angered people, who described it as an "inappropriate way to receive political figures, as it does not befit the Arab nature."
"Let us wait, what we see of love and warm welcome with Meloni may be a sacrifice from the 'loving' Dbaiba for the sake of the homeland, to run the country's affairs and preserve the common interests between the two countries," an activist said.
"Dbaiba is sacrificing his family's stability to keep his position as Prime Minister."
Notably, Meloni visited Libya to hold talks on illegal immigration and energy cooperation between the two countries.
The Minister of Foreign Affairs, Najla Al-Mangoush signed a memorandum of understanding with her Italian counterpart, Antonio Tajani. This is to enhance border security and combat illegal immigration.
Amid Moscow's invasion of Ukraine, Meloni aims to secure new supplies of natural gas to replace Russia. She had visited Algeria, Italy's main supplier of natural gas, and signed several agreements. Last year it reduced imports from Russia by two-thirds, to 11 billion cubic meters.
During a round table with Dbaiba, Meloni stressed that Italy wants to increase its profile in the region, though it does not seek a "predatory" role, but wants to help African nations "grow and become richer."
During the visit, Claudio Descalzi, CEO of the Italian energy giant, ENI, and the Chairman of Libya's state-run National Energy Corporation (NOC) Farhat Bengdara signed an $8 billion dollar agreement to develop two Libyan offshore gas fields.
Attending the signing ceremony, Meloni stressed that the deal was "significant and historic" and will help Europe in securing sources of energy.
"Libya is clearly a strategic economic partner, for us," Meloni said.