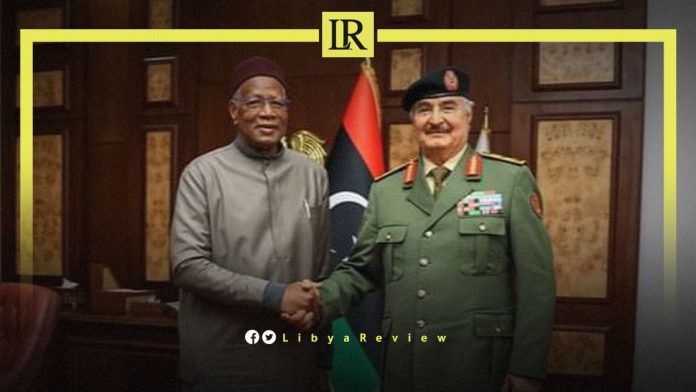 The UN Envoy to Libya, Abdoulaye Bathily met with the General Commander of the Libyan National Army (LNA), Field Marshal Khalifa Haftar in Benghazi.

According to a statement by Bathily, the two sides discussed the political, security, and social situation in Libya. "We agreed that it is imperative that all parties engage constructively, and without delay, to establish a constitutional framework to facilitate free, fair, and transparent elections in 2023," he tweeted.

Bathily encouraged Haftar to continue support for the 5+5 Joint Military Commission (JMC). As well as commending his commitment to back the implementation of the action plan for the withdrawal of all foreign forces, and mercenaries.

"This will contribute to sustainable peace and stability in Libya," Bathily explained

The two agreed on the critical need to unify state institutions, including the military. As well as ensure national resources are managed transparently, for the benefit of all Libyans.

Earlier this week, Haftar received the Libyan Parliament-designated Prime Minister, Fathi Bashaga.

According to press reports, the two sides discussed the ongoing political process, and the Libyan government's efforts to resolve the political crisis in the country.

This is the first meeting between the two since the Parliament appointed Bashagha on 10 February 2022.

The meeting comes several days after Haftar received the German Ambassador to discuss "a political solution to get out of the crisis."

The two sides affirmed the importance of a political solution based on, and in support of the efforts of the UN Secretary General's Special Representative, Abdoulaye Bathily.

On Monday, Bathily called on the Libyan Parliament and the High Council of State (HCS) to "work constructively to finalize the constitutional framework that facilitates the holding of national elections as soon as possible."

"Over the last two days, I spoke with High Council of State Pres. Khaled Mishri & House of Representatives Speaker Ageela Saleh to underscore, again, how critical it is for the two councils to constructively engage & finalize a constitutional framework to facilitate elections," Bathily tweeted.