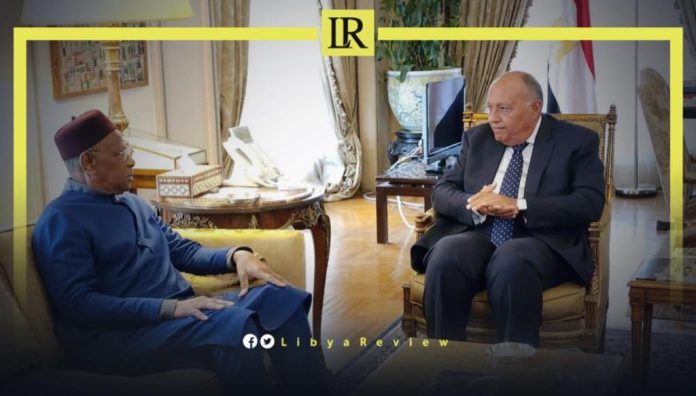 Egyptian Minister of Foreign Affairs, Sameh Shoukry said on Tuesday, that "foreign parties must cease their attempts to divert Libya's political process to suit their interests."

This came during a meeting with the Head of the United Nations Support Mission in Libya (UNSMIL), Abdoulaye Bathily in Cairo.

Shoukry also stressed the necessity of "not allowing any internal Libyan party to hijack the political process through imposing a fait accompli."

Moreover, he briefed Bathily on the developments of the constitutional track, in light of the successive meetings Cairo recently hosted. As well as stressing the importance of successfully concluding this track under the auspices of UNSMIL, in preparation for holding legislative and Presidential elections simultaneously without delay.

In turn, Bathily thanked Egypt for its efforts in resolving the Libyan crisis as it pertains to the 5 + 5 Joint Military Committee (JMC), the country's constitutional track, as well as the Libyan Economic Working Group.

He stated that UNSMIL stressed that the "key to Libya's solution lies in the hands of the Libyans," calling on all parties to "show flexibility regarding the few remaining issues in the constitutional track."

The Senegalese diplomat added that it is necessary for Egypt to "maintain open communication and coordination with the UN in order to provide proper support to Libya to guarantee the holding of elections. As well as the withdrawal of all foreign forces and mercenaries from the country, in line with the Security Council resolutions."

In early January, Egypt facilitated a meeting between rival Libyan leaders, Speaker of the Libyan Parliament, Ageela Saleh and Head of High Council of State (HCS), Khaled Al-Mishri.

Egypt's Ministry of Foreign Affairs welcomed the outcomes of the meeting, describing it as an "important step" towards holding elections, as soon as possible. "Egypt will always remain supportive of the choices of the Libyan people, and the role of Libyan institutions in a way that leads to achieving security, stability, and unity in Libya," it stated.

Libya has witnessed a political stalemate since it failed to hold long-awaited elections in December 2021.

The country is currently divided between two rival governments; one based in Tripoli, led by Abdel-Hamid Dbaiba, and the other appointed by the Parliament and led by Fathi Bashagha.