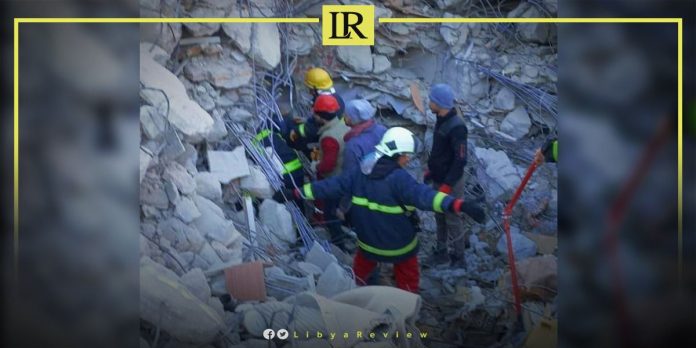 A Libyan team participating in the search for missing persons in the Turkish city of Antakya has managed to rescue five people, and recover a number of bodies.

The National Safety Authority stated that the team "continues search and rescue work for the second day in a row, despite the difficult living conditions in the city. There is a complete outage of electricity, water, and the communications network."

The statement said that the search and rescue team "are participating in search operations for the missing as a result of the earthquake. They are headed by Major General Bashir Belaid, and are highly capable and experienced, having taken part in international search and rescue operations."

Notably, a Libyan aid shipment has arrived in Syria, carrying more than 40 tons of relief, medical, and food supplies provided by the Libyan National Army (LNA).

The Syrian News Agency (Sana) quoted the Director of the LNA's Media Office, Malik Bahodha as saying, "The Commander-in-Chief of the Libyan National Army, Field Marshal Khalifa Haftar offers his sympathy and solidarity with the Syrian people. As a result of the earthquake, and based on his instructions, an air bridge was opened to deliver and provide aid."

The shipment, which arrived at Latakia International Airport on Wednesday, is loaded with foodstuffs and medicines, in addition to three ambulances.

Haftar confirmed that they are open to transporting more shipments of aid to the affected areas.

The Director of Latakia International Airport indicated that "all preparations and arrangements have been taken to facilitate the process of receiving aid coming through the airport."

On Tuesday, the LNA operated an air bridge to transport relief shipments and various aid to Syria, in order to help the victims of the devastating earthquake that struck the northwestern regions of the country.

The Military Information Division stated that the air bridge and the aid convoy came with direct instructions from Haftar. A video posted showed food and relief items being loaded onto a cargo plane.

Meanwhile, the Libyan Parliament-designated government, headed by Fathi Bashagha, expressed its "sincere condolences and sympathy to the peoples and governments of Syria, Turkey, and Lebanon for the victims of the catastrophic earthquake that struck the Mediterranean region."

The government also expressed its solidarity and support during this catastrophe, and hopes for a speedy recovery for the injured.

A devastating earthquake measuring 7.8 on the Richter scale struck southern Turkey, and northern Syria at dawn on Monday. The death toll from the Turkey-Syria earthquakes has passed 16,000.