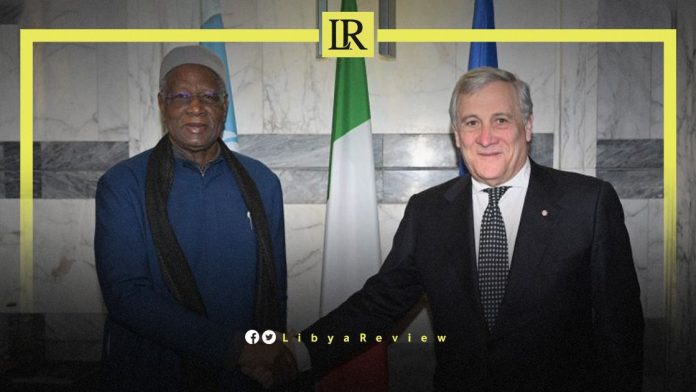 The Italian Deputy Prime Minister, and Minister of Foreign Affairs, Antonio Tajani described the Libyan crisis as "the most complex," days after he met with the Special Representative of the UN Secretary-General to Libya, Abdoulaye Bathily in Rome.

According to Italy's AKI news agency, they discussed the proposal of the "Libyan Sovereignty Charter," which aims to create a unified front of the main international players to support UN mediation.

Addressing the Diplomatic Forum of the University of Luiss Guido Carli in Rome, Tajani said Italy wants to "be a link that can bring the conflicting parties back to dialogue and rediscover their unity, so that Parliamentary and Presidential elections can be held in the near future."

He expressed his hope that Libya would become "our and Europe's partner in the fight against illegal immigration, and in energy supplies."

Tajani noted that it would be possible to resolve the Libyan issue "if we are also able to bring Turkey and Egypt together, around an ideal dialogue table," as well as "involving Qatar and the UAE."

Bathily called on the Libyan parties to facilitate holding elections. He also encouraged the international community to support Libya's elections.

In a tweet, Bathily said, "I had a constructive meeting with the Deputy Prime Minister and Minister of Foreign Affairs and International Cooperation of Italy, Antonio Tajani, on the political, economic and security developments in Libya. I expressed my appreciation for Italy's sustained support to United Nations (UN) efforts in facilitating elections in 2023."

"We reiterated our call to all Libyan actors, including the leadership of the House of Representatives (HoR) and the High Council of State (HCS) to facilitate the holding of elections through a clear and implementable agreement on a constitutional basis," the UN Envoy stated.

"We also called on the international community to speak with one voice, in support of the Libyan people's aspiration for elections," he noted.