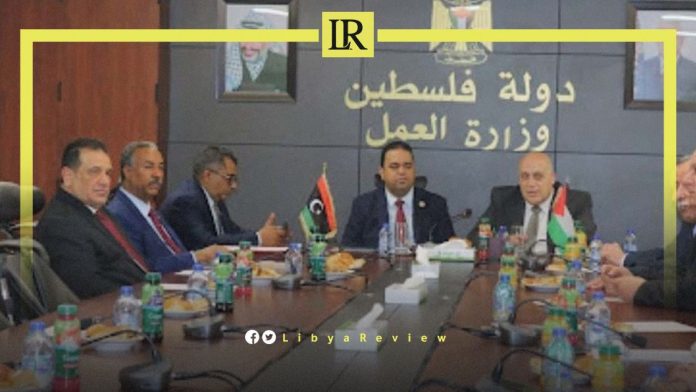 Libyan Minister of Labour and Rehabilitation, Ali Al-Abed, discussed mechanisms for activating an agreement signed between the two countries a year ago to provide 10,000 job opportunities for Palestinians in Libya, with his Palestinian counterpart, Nasri Abu Jaish.
The meeting discussed setting up a legal framework for work in the host country, and facilitating job opportunities and entry visas to Libya.
This came during Al-Abed's visit to Palestine, the first for a Libyan Minister to Palestine. They discussed ways and mechanisms of joint cooperation between the two countries in the field of the labor sector, according to what was published by the Palestinian Ministry of Labour.
The Ministry added that Abu Jaish confirmed the depth of relations between Palestine and Libya. He praised Libya's support for Palestine, its people, and the Palestinian national cause.
The Palestinian Minister pointed out that during the last period, some mechanisms for the implementation of the agreement were put in place. He added that the work is still underway to complete the implementation of the agreement and set procedural steps, to attract skilled Palestinian labour to work in rebuilding the Libyan state.
Abu Jaish stated that the Libyan labor market will be provided with its needs of Palestinian labor from doctors, engineers, nurses, teachers and experts.
For his part, the Libyan Minister of Labour affirmed the support of the Libyan government and people for the State of Palestine. He noted that the agreement signed between the two countries would integrate skilled Palestinian labour into the Libyan labour market in various fields and sectors.
He confirmed that the agreement will also contribute to restoring economic life to Libya, following wars, conflicts and international interventions that faced Libya over 12 years.
Al-Abed stated that during the next month, the technical team consisting of the Libyan and Palestinian Ministries of Labour will work on setting the executive regulations and procedural steps to implement the agreement. He added that they will discuss exchanging all information between the two countries, and discussing electronic link mechanisms to attract Palestinian workers.
Al-Abed indicated that it was agreed through the agreement to treat the Palestinian worker like the Libyan worker with all rights in terms of the conditions of the work environment.
He added that there are facilities for the Palestinian worker so that the they can bring their family with them, as well as transfer money to their family in Palestine.