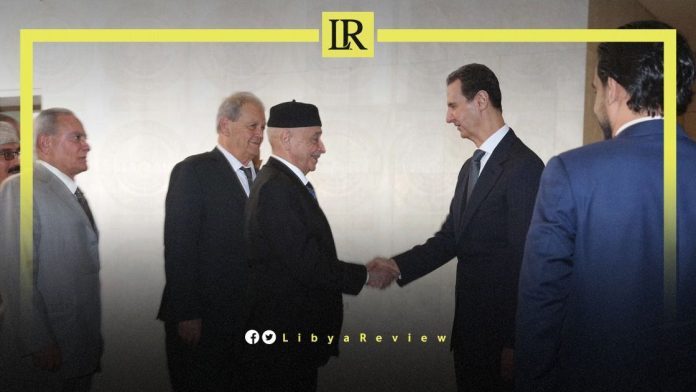 The Speaker of the Libyan Parliament, Ageela Saleh, called for lifting the sanctions on Syria, after the deadly earthquake hit the country.
During his visit to the Syrian capital of Damascus, as a part of Arab parliamentarian delegations, the Libyan Parliament Speaker said his country supports the Syrian people and its leadership.
"We came to confirm our solidarity and stand with Syria. We are in the frontline along with Syria's supporters," Saleh said during a meeting with Syrian President Bashar Al-Assad.
Saleh noted that the Libyan Parliament supports the return of Syria to what he called as the "Arab family."
He noted that he is proud of the leadership of Bashar Al-Assad. "I am proud to meet with Al-Assad, despite the conspiracies against him," Saleh said during the meeting.
The Libyan Parliament Speaker wished the safety and stability for the Syrian people and leadership.
The Libyan parliamentarian delegation visits Syria as part of the delegation of the Arab Inter-Parliamentary Union.
According to the Libyan Parliament's statement, on Sunday, Saleh's visit comes to confirm the Arab support for the Syrian people after the catastrophe of the devastating earthquake. The statement affirmed the need for joint Arab action at all levels for Syria's return to the "Arab family."
On Thursday, the Libyan Ambassador to Syria, Mohamed bin Shaaban, called for concerted efforts to help Syria regain its regional and Arab status, as well as rejoin the Arab League.
In press statements, Shaaban said, "we sympathise with the Syrian people in light of the grave consequences caused by the 7.8 earthquakes that hit Syria and Turkey earlier this month, and left thousands dead. We will help them as much as possible, and provide them with their necessary needs within the framework of the air bridge of aid being sent by the Libyan people."
He indicated the General Command of the Libyan National Army (LNA), led by Field Marshal Khalifa Haftar, as well as the Tripoli-based Government of National Unity (GNU), led by Abdelhamid Dbaiba sent numerous aid planes to Syria.
The Libyan diplomat stressed that the LNA alone has so far sent 14 planes, carrying nearly 50 tons of aid. The GNU is believed to have sent a further five flights.