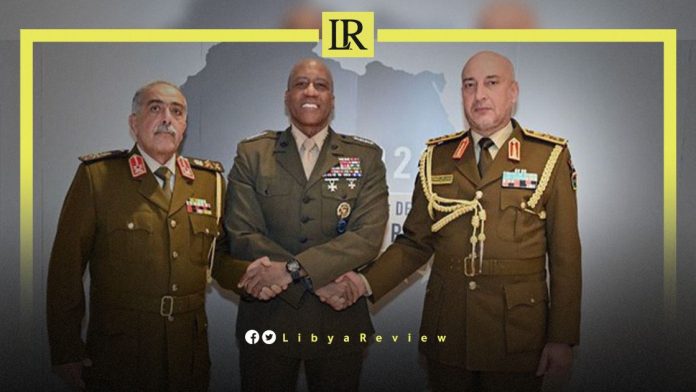 On Thursday, the Chief of Staff of the Libyan National Army (LNA), Lieutenant-General Abdulrazek Al-Nathouri and his Government of National Unity (GNU) counterpart, Major General Mohamed Al-Haddad met with AFRICOM Commander General, Michael Langley.

"We are pleased to see the joint Libyan military delegation of General Haddad and General Nadhuri attend the African Chiefs of Defense Conference in Rome hosted by the US Africa Command Commander General Langley," the US Embassy tweeted.

The Embassy added that the "US commends its commitment to reunify the Libyan military. We support the establishment of a joint unit as a first step."

It reaffirmed its support for the Libyan people in their calls for peace, national unity, and full sovereignty to bring about a secure future of economic prosperity and regional stability.

It is noteworthy that the unification of the military institution in Libya is one of the most important demands, and basic pillars for restoring stability and peace to the country.

Talks to reunite the military institution have stalled more than once, despite the support and international mediation from the parties concerned with the Libyan crisis.

In February, Cairo hosted meetings of the Libyan 5+5 Joint Military Commission (JMC) under the auspices of the United Nations, to discuss the departure of all mercenaries and foreign forces from Libya.

The UN Special Representative to Libya, Abdoulaye Bathily and representatives of Libya's neighbouring countries – Sudan, Chad, and Niger – participated in the JMC meetings.

Bathily stressed that the security track "is an important pillar" for paving the way to establishing a favourable political and economic environment in Libya.

Libya has witnessed a political stalemate since it failed to hold long-awaited elections in December 2021. The country is currently divided between two rival governments; one based in Tripoli, led by Abdel-Hamid Dbaiba, and the other appointed by the east-based Parliament and led by Fathi Bashagha.

Dbaiba, who has refused to hand over power, asserted in early January that his government is ready to hold general elections in 2023. Egypt has repeatedly stressed that elections are the only solution to the ongoing crisis in Libya.

Libya failed to hold general elections in December 2021, due to disagreements over election laws among Libyan parties.