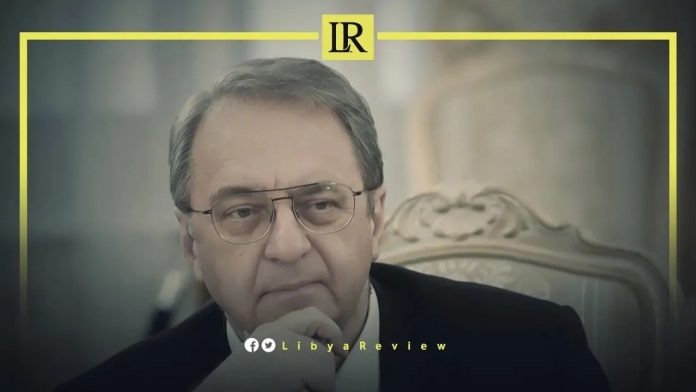 The Russian Presidential Envoy for the Middle East and Africa and Deputy Foreign Minister, Mikhail Bogdanov said that Russia is ready to resume halted projects in Libya.
In an interview with TASS, Bogdanov said: "We will also be ready to join the post-conflict restoration and development of Libya's vital economic infrastructure by means of the implementation of large-scale joint projects, and not only in the energy sector."
He added that Moscow will "encourage Russian companies planning to return to the Libyan market when the situation in the country is settled, and security conditions are ensured."
"Regrettably, after NATO's aggression, practically all foreign companies, including Russian, had to wind up their activities and their personnel left the country. Nevertheless, Russian organizations still are interested in returning to the Libyan market."
The Russian diplomat explained that Libyan officials have repeatedly raised the issue of returning Russian businesses back to the country.
"Russian-Libyan cooperation has a rich, decades-long experience. Before the 2011 developments, many Russian economic operators worked in that country. The biggest projects included Gazprom Neft and Tatneft projects for the development of hydrocarbon fields."
Notably, the First Deputy Permanent Representative of Russia to the United Nations, Dmitry Polyanskiy accused the West of "hypocrisy." He claimed that the United States sought to maintain the current situation in Libya.
During his speech before the United Nations Security Council (UNSC), Polyanskiy called on Libyans "not to fall into the trap set by the Western parties, that only work to serve their interests in Libya."
The Russian diplomat welcomed the initiative of the UN Envoy to Libya, Abdoulaye Bathily on holding elections in 2023. He stressed that Moscow would consider Bathily's initiative seriously.
He affirmed support for Bathily's efforts, stressing the need, "not to rush to organize the elections, to ensure their success."
Polyanskiy added that "achieving peace in Libya requires coordinated efforts by all concerned international parties." He emphasised that "establishing mechanisms to resolve the Libyan problem without involving the Libyans is ineffective."
He also called for the "speedy removal of foreign forces from Libya, in a simultaneous and balanced manner."