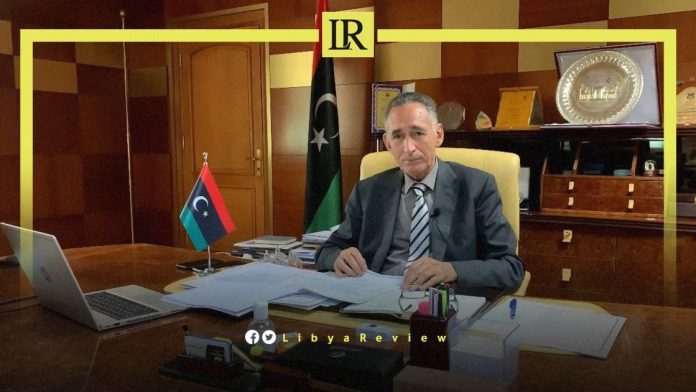 The Libyan Minister of Economy and Trade, Mohamed Al-Hwaij stressed the importance of "obtaining solid academic research from Libyan universities, and receiving up-to-date information from experts."

Last week, Al-Hwaij met with experts and academics specialized in economic affairs. They discussed ways to "benefit from high competencies and distinguished capabilities that will have a significant impact on the national economy."

According to a statement issued by the ministry, the attendees "affirmed their readiness to cooperate with the ministry by submitting proposals that serve the national economic plan."

They responded to the development of "proposals and initiatives to reach pioneering innovative solutions and formulate a common national vision to revitalize the national economy, and improve it with scientific skills for economic advancement."

In January, Al-Hwaij met with the Chairman of the Arab Authority for Agricultural Investment and Development (AAAID), Mohamed Al-Mazrouei. They discussed the possibilities of investment in Libya's agriculture sector.

Al-Hwaij affirmed the importance of agricultural projects, as a way to develop economic and food security. He pointed to the investment map implemented by the General Authority for Investment Promotion and Privatization Affairs, affiliated with the Ministry of Economy and Trade. This encourages local and foreign investors to find investment opportunities in Libya.

The meeting was attended by the Director of the Studies Department, the Director of the Investment Department, and the Director of the Relations Department of the AAAID.

In December 2022, Al-Hwaij said that the Ministry aims to plant 20 million olive trees in various regions of the country. The Ministry recently launched the first national award of its kind for the best olive oil in Libya.

It announced that the Organising Committee of the Award will start receiving olive oil samples on Sunday, and will continue until 12 January. The closing ceremony of the award will be held on 9 February 2023.

"The Award aims to support entrepreneurship in the agricultural sector, enhance its role in diversifying the economy and spatial development, and open new markets for local products," the Ministry said in a statement on Thursday.