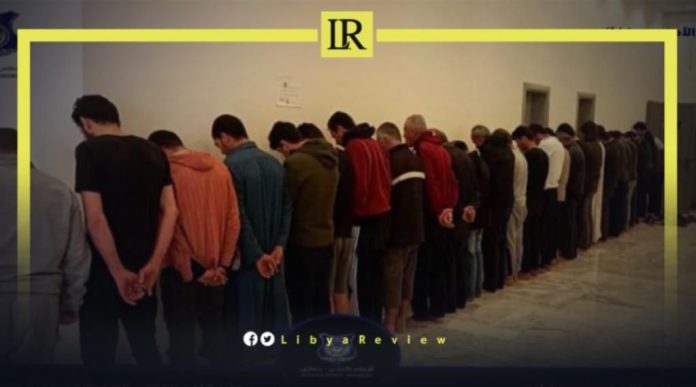 On Sunday, the Benghazi Security Directorate announced that police forces had arrested 32 migrants of Egyptian and Chadian nationality.
"This comes within the framework of the plan prepared by the Head of the city's police station, Brigadier General Mahmoud Hobeish," the Directorate said.
"We received information about a house in the area inhabited by a large group of expatriate workers who entered the country illegally," the statement added.
Among the detainees was a Chadian migrant who is wanted for drug trafficking charges. The police referred all the detainees to the competent authorities.
Last month, the Anti-Illegal Immigration Agency of Shahat deported 16 Egyptian nationals, who had entered Libya without legal documents.
They were deported from Libya through the land crossing of Amsaad, following instructions from Libya's Public Prosecution.
The Agency pointed out that the operation comes within its mission to "maintain health and national security in the country."
It is noteworthy that six Egyptians were freed from a human smuggling gang in western Libya. Hours before their release, the Egyptian Foreign Ministry said it was "working around the clock to secure the release of six Egyptians who are detained in an illegal immigration centre in western Libya."
The Foreign Ministry said in a statement that the detention center, "is not subject to the Libyan authorities." The Egyptian Embassy in Tripoli has "communicated with the concerned authorities to intervene in order to release the kidnapped citizens," it added.
The statement noted that the six Egyptians had left the country with travel permits that stipulated their presence in the east of Libya only, without going beyond. It called on all citizens not to violate the instructions related to travel to Libya.
After they returned, the six Egyptians revealed the details of the terror they lived through, until their liberation from the hands of the traffickers.
In an interview with Al-Arabiya news, they said that they had been kidnapped by unknown gunmen, and kept in a 16 square meter room, along with 35 other abductees.