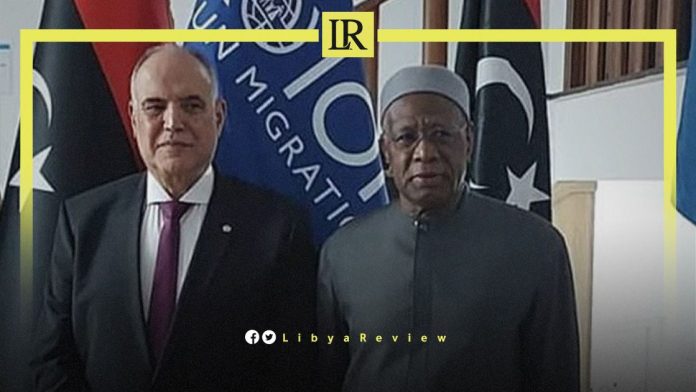 The Head of the United Nations Support Mission in Libya (UNSMIL), Abdoulaye Bathily received the Libyan National Security Adviser, Ibrahim Bushnaf at the mission's office in Benghazi.
Bushnaf said in a statement, that the meeting "discussed several important files, foremost of which was the push for the holding of Parliamentary and Presidential elections in Libya."
The two sides agreed on the need to "move forward in working to bring points of view closer, to ensure the success of these elections, and end the transitional period that has extended in Libya over the past 12 years."
Earlier on Sunday, Bathily met with representatives of parties and civil society organizations in Benghazi. The UN Envoy said that he had listened to "their concerns over the political stalemate, their assessment of the challenges facing the country, and their suggestions on how to address these challenges towards achieving a stable and prosperous Libya, through the holding of inclusive elections."
"I conveyed that it was essential that voices from political parties, civil society, women, and young people are heard on producing an implementable roadmap for elections. My initiative aims to broaden the discussion to include these actors in charting a path to elections this year," Bathily added.
Last month, Bathily briefed the UNSC on the latest developments in Libya. "I have decided to launch an initiative aimed at enabling the organization and holding of presidential and legislative elections in 2023. In this regard, I plan to establish a High-level Steering Panel for Libya," Bathily announced.
The proposed mechanism will bring together all relevant Libyan stakeholders, including representatives of political institutions, major political figures, tribal leaders, civil society organisations, security actors, women, and youth representatives.
Bathily noted that the initiative will facilitate the adoption of the legal framework and time-bound roadmap to the holding of elections in 2023. The proposed panel will also "provide a platform to advance consensus around related matters, such as election security and the adoption of a Code of Conduct for all candidates," he added.
The Libyan Parliament and its designated government, led by Fathi Bashagha denounced the new political initiative announced by Bathily during his briefing to the Security Council. But the UN Envoy asserted in televised statements that the roadmap "will be supported by all international and local actors inside and outside Libya."