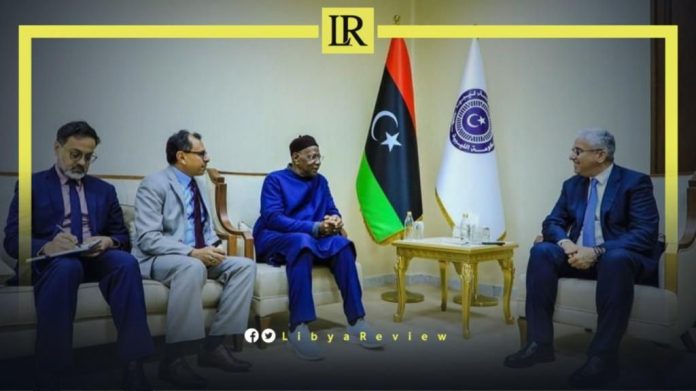 On Monday, the Libyan Parliament-designated Prime Minister, Fathi Bashagha met with the UN Envoy to Libya, Abdoulaye Bathily in Benghazi.

In a tweet, Bashagha affirmed the legitimacy of his government, and his "full readiness to support the efforts of the UN mission to achieve the aspirations of the Libyan people for change and democratic transition, and to make 2023 the year of elections."

Bashagha welcomed Bathily's initiative to "break the political stalemate and organise elections." He stressed that need for Libyan ownership "to solve the current crisis and exert more efforts to increase the rapprochement between the Parliament and the High Council of the State (HCS), in order to complete the electoral laws as soon as possible."

On Sunday, the US Special Envoy to Libya, Richard Norland affirmed the need for "new stimulus to organise elections, and find a lasting political solution in Libya."

The US Embassy in Algeria quoted Norland as saying that he held consultations, which he described as "very valuable" with Algeria, on how "neighbouring countries can support the political process for the benefit of Libya and the region."

The US Envoy added that he looks forward to continuing consultations with Algeria on the situation in Libya. "I appreciated the hospitality that Libyan Ambassador to Algeria, Salih Bakdah extended to US Ambassador, Elizabeth Aubin and me. We discussed the positive role that Algeria is playing in support of stability in Libya," Norland added.

Notably, Bathily, said if electoral laws are put in place in June, elections could be held at the end of this year. "I believe that the Libyan Parliament and the HCS will not take more than several months to draft the electoral laws, and it is important to create a proper security environment for holding the overdue electoral entitlement," Bathily said during a press conference in Tripoli.

The UN Envoy added that if the 6+6 committee, comprising six members from the Parliament and six from the HCS, "worked within a reasonable timeframe and came out with a constitutional and legal basis for the elections, this would restore the Libyan people's confidence in the two institutions."

He stressed the importance of "creating the necessary security environment for the elections, urging for peaceful dialogue between the country's security authorities to pave the way for elections."

He emphasised that the "transitional stages and interim governments caused the prolongation of the crisis in Libya, and exacerbated economic as well as social conditions in the country."

"The Parliament passed the 13th constitutional amendment and the HCS approved it at an accelerated pace, which is a step in the right direction," he noted.