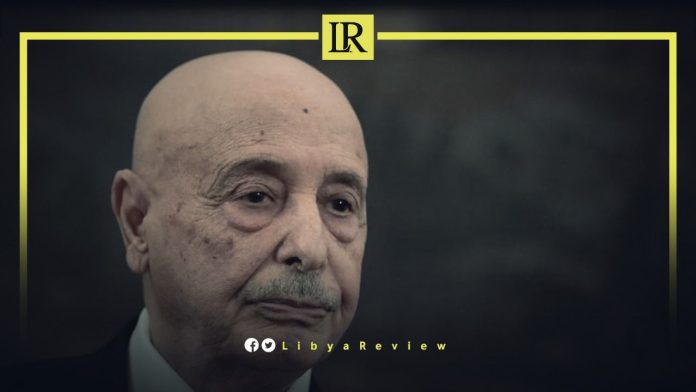 The Speaker of the Libyan Parliament, Ageela Saleh said they would form a new roadmap if no agreement was reached with the High Council of State (HCS).
In an interview with Al-Masar TV, Saleh denounced the statements made by the UN Envoy to Libya, Abdoulaye Bathily, who described the political bodies in Libya as expired. "Bathily isn't the ruler of Libya. The role of the UN Mission is to help the Libyans, not choose who rules," Saleh said.
"Bathily is not keener than us on the interests of the Libyans. He is not entitled to form political bodies," he added.
"According to the political agreement, the Parliament is the sole legislative authority in Libya, until a new legislative authority is elected," Saleh said.
He affirmed the need for a unified government to hold the long-waited elections in the country. Saleh also confirmed that they will finalize the legislative basis for the elections, by the end of June.
The Speaker also defended the appointment of a new government led by Fathi Bashagha its Prime Minister, saying it "has been granted confidence, and took the constitutional oath."
"The UN Mission is not interested in forming a new executive authority, and is ignoring the fact that elections cannot be held in the presence of two governments in the east and west," Saleh noted.
Libya is currently facing a political crisis after the Libyan Parliament swore in Bashagha in February 2022. Members of Parliament argued that the incumbent Prime Minister, Abdel-Hamid Dbaiba's mandate expired when the elections failed to take place.
Dbaiba has refused to cede power, amid the fallout from a failed attempt to hold national elections in December 2021.
Notably, Bathily has announced an initiative aimed at enabling legislative and Presidential elections this year, and will set up a high-level steering panel, he told the United Nations Security Council earlier this month.
During his briefing, Bathily said the mechanism "would bring together representatives of political institutions, major political figures, tribal leaders, civil society organizations, security officials, and other relevant groups."