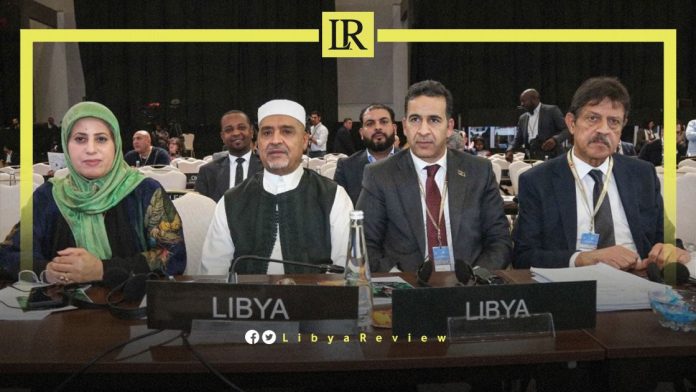 The Libyan Parliament delegation has concluded its participation in the General Assembly (146) of the Inter-Parliamentar Union (IPU) and the session (211) of the Governing Council. It was held in the Bahraini capital, Manama, under the slogan (Peaceful coexistence and inclusive societies for all … combating intolerance).

The delegation was headed by the First Deputy Speaker of the Parliament, Fawzi Al-Nuwairi. It included the Head of the Legislative and Constitutional Committee; Ramadan Shambesh, and MP's Rabiah Aburas, and Sultanah Al-Mismari,

At the closing session of the General Assembly, the reports of the permanent committees were presented, and a number of proposed decisions were adopted.

The session also witnessed a presentation regarding support for political action in a number of countries that are going through political crises.

Al-Nuwairi made an intervention in this regard. He clarified a number of facts about the political process in Libya, and the Parliament's role. He pointed out that "the main reason for the Libyan crisis is due to external interference, which led to the country becoming an arena for conflict management."

The IPU General Assembly issued the 'Manama Declaration,' in which it affirmed that "acts based on hatred and all forms of violence, racism, and intolerance against marginalised groups are considered a crime."

It also emphasized investing in education, including peace education, in accordance with the resolutions of the United Nations General Assembly. As well as establishing constructive dialogue with parliamentarians of all political persuasions, at the national and international levels.

The statement also stressed the need to take self-assessments of the inclusiveness of Parliaments. This includes effective measures to increase the representation of women and youth, and the regulation of digital platforms and other media to reduce the risks of hate speech and various forms of misinformation.

It called for protecting the right to freedom of expression, and strengthening interaction with relevant UN organizations working for dialogue, and supporting the efforts of the UN peacekeeping efforts and mediation.