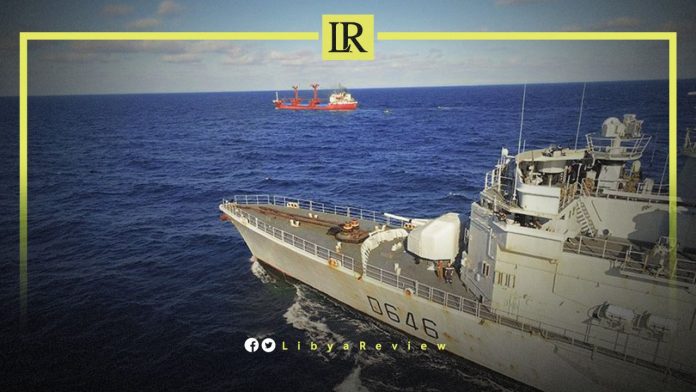 On Monday, the European Union (EU) extended the mandate of its military mission, IRINI, meant to enforce the arms and oil embargo on Libya and fight human trafficking in the Mediterranean Sea.

The EU Foreign Affairs Ministers agreed to extend the mandate of the EU's military operation in the Mediterranean, officially called EUNAVFOR MED IRINI, until the 31st of March 2025, the Council of the EU announced in a statement.

The costs are estimated to be €16.9 million ($18 million) for the upcoming two years, the statement further said.

Established in 2020, the military mission aims to enforce the United Nations (UN) arms embargo on Libya in the air, in the sea, and by satellites.

"IRINI is part of the European integrated approach to Libya involving political, military, economic, and humanitarian efforts to bring stability and security to the country," the Operation says on its website.

It focuses on countering illegal arms trafficking and supporting the implementation of the arms embargo on Libya. It works to gather information on oil smuggling, in particular, due to its consequences on the Libyan economy, and its possible use to finance the arms market.

It also contributes to the disruption of the migrant smuggling business model, by collecting information with aerial assets and sharing them with FRONTEX and relevant national authorities.

On three occasions, IRINI seized cargo assessed to be in violation of the UN arms embargo and diverted the vessels to an EU Member State port.

Turkish-flagged ships have denied consent to board and inspect vessels on nine occasions.

IRINI says that its inspections are always carried out in accordance with the relevant UN Security Council Resolutions and in full respect of international law.

Last year, a UN panel of experts said in a report that the arms embargo in 2011 remains "totally ineffective." It added that civilians, including migrants and asylum seekers, continue to suffer widespread violations and abuses.

The panel said it identified 18 arms transfers, and four examples of military training between March 2021 and late April 2022, which violated the UN arms embargo.

According to the report, Libya faces a serious security threat from foreign fighters and private military companies, which have violated international law.

The experts also accused seven armed groups of systematically using unlawful detention to punish perceived opponents. They continue to ignore international and domestic civil rights laws, including laws prohibiting torture.

"Migrants have been extremely vulnerable to human rights abuses and regularly subjected to acts of slavery, rape, and torture," the panel said in their report obtained by the Associated Press.