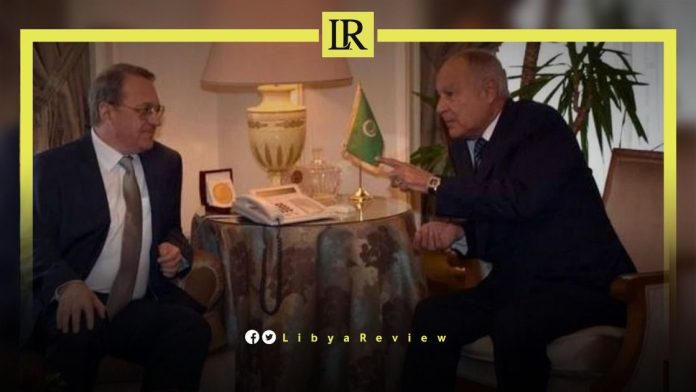 The Secretary-General of the Arab League, Ahmed Aboul-Gheit discussed the latest developments in Libya, with the Russian Deputy Foreign Minister, Mikhail Bogdanov during a meeting in Cairo.

They discussed settling the various crises in the Middle East and North Africa, and enhancing security and stability in the region.

Aboul Gheit's Spokesman, Jamal Rushdi said Bogdanov outlined Moscow's stance on Libya, Syria, Yemen, and Lebanon.

Last month, Russian Foreign Minister, Sergei Lavrov met with the Special Representative for Libya and the Head of the United Nations Support Mission in Libya (UNSMIL), Abdoulaye Bathily in Moscow.

In a statement, the Russian Foreign Ministry said that "Lavrov renewed his commitment to cooperate with the United Nations Mission in Libya."

He noted that "there is no alternative to achieving a just, long-term, and mutually acceptable settlement within the framework of the political process, led and implemented by the Libyans themselves."

He urged the two parties to "coordinate international efforts in good faith, aimed at overcoming the protracted conflict with the leading role of the United Nations."

In January, Lavrov and his Egyptian counterpart, Sameh Shoukry discussed the situation in Libya, in addition to Cairo's efforts to push for elections in the country.

Shoukry said that they stressed the "necessity of establishing a government that represents the interests of the Libyan people, ends the presence of foreign forces and militias, while preserving legal frameworks."

In his speech at a joint conference with Lavrov in Moscow, Shoukry also touched on the issue of supporting the 5 + 5 Joint Military Commission (JMC), in order to "unify the military establishment, and not slip into confrontations."

"We discussed the situation in Libya, and Egypt's efforts to find an intra-Libyan solution," he said.

In turn, Lavrov noted that "we stressed the continuation and close work with Egypt during our talks, to resolve the crisis in Libya. We support Egypt's efforts to embrace intra-Libyan dialogue to reach the constitutional basis for holding elections."

Libya has been in chaos since a NATO-backed uprising toppled longtime leader Muammar Gaddafi in 2011. The county has for years been split between rival administrations, each backed by rogue militias and foreign governments.