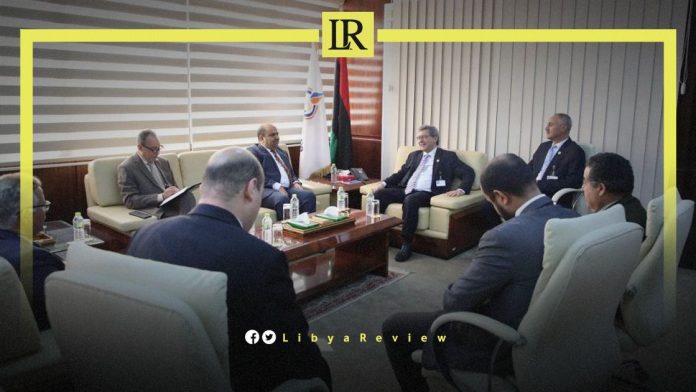 The Libyan Minister of Oil and Gas, Mohamed Aoun expressed his desire for the return of Algerian energy giant, Sonatrach to Libya.

This came during a meeting on Monday with the Algerian Ambassador, Slimane Chenine, according to a statement by the Libyan Oil Ministry.

Aoun stressed the importance of Algerian companies investing in Libya. He pointed out that "Sonatrach's contracts are located in the areas adjacent to the Libyan-Algerian border, where oil operations in the Al-Wafa field have not stopped, and are considered a safe area."

Aoun added that "Algerian companies have investment opportunities to establish oil refineries, due to Libya's need for fuel derivatives for local consumption and exporting the surplus."

He highlighted the importance of cooperation with Algeria in the field of oil services, such as general maintenance, drilling, and laying production and gas lines. "It is possible to benefit from the expertise, capabilities and experiences of Algerian companies in these fields," the Minister explained.

In turn, Ambassador Chenine confirmed the depth of relations between the two countries, pointing to Algeria's efforts to stabilize Libya.

He also expressed his desire for more cooperation with Libya, especially in the oil sector, and the exchange of visits between Algerian oil and service companies, the Libyan Oil Ministry, and the National Oil Corporation (NOC).

On Saturday, the Algerian government announced that it will reopen the 'Dabdab' land border crossing with Libya, for trade in the upcoming few days.

Algerian Trade Minister, Kamal Rizik stated that the crossing is "completely ready, and will open immediately as soon as a date is set for the next meeting."

He also urged investors to pump new investments into the emerging Libyan market, especially in foodstuffs and building materials.

Algeria and Libya share about 1,000 km worth of borders. The Dabdab crossing is one of three official border crossings, the other two being the Tarat, and Tin El-Koum, which have been closed since 2011. Dabdab had also been closed for security concerns.

Last week, the NOC announced that the production of crude oil amounted to 1,203,000 barrels per day.