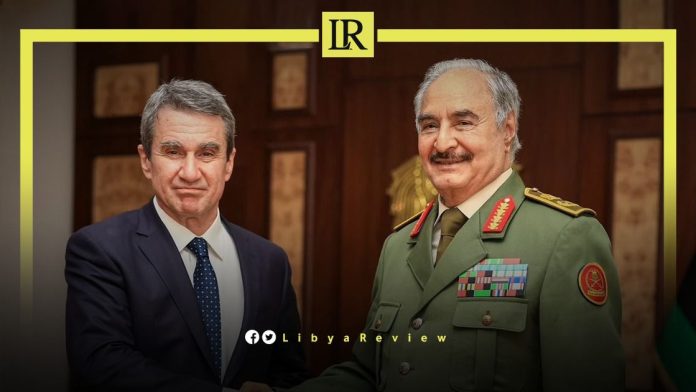 On Wednesday, the Commander-in-Chief of the Libyan National Army (LNA), Field Marshal Khalifa Haftar received Greek MP and the Foreign Affairs Officer of the PASOK party, Andreas Loverdos, and the Greek Consul in Benghazi, Stavros Venizelos.

The meeting, which was held in Benghazi discussed the latest political developments in the country, and bilateral relations.

On Monday, Haftar, held a meeting with a high-level US delegation, to discuss the situation in Libya.

The meeting, held in Benghazi, included the US Assistant Secretary of State for Near Eastern Affairs, Barbara Leaf, the US Special Representative for Libya, Ambassador Richard Norland, and the Chargé d'Affairs of the US Embassy in Libya, Leslie Ordman.

They discussed political developments in Libya, and the importance of supporting the efforts of the UN Support Mission in Libya (UNSMIL). This is through coordination with the Libyan Parliament, and the High Council of State (HCS) to prepare the electoral laws required to hold Presidential and Parliamentary elections in 2023.

On 27 February, the UN Envoy to Libya, Abdoulaye Bathily announced an initiative aimed at enabling legislative and Presidential elections this year, and will set up a high-level steering panel, he told the United Nations Security Council earlier this month.

The proposed mechanism will bring together all relevant Libyan stakeholders, including representatives of political institutions, major political figures, tribal leaders, civil society organizations, security actors, women, and youth representatives.

Bathily noted that the initiative will facilitate the adoption of the legal framework and time-bound roadmap to the holding of elections in 2023. The proposed panel will also "provide a platform to advance consensus around related matters, such as election security and the adoption of a Code of Conduct for all candidates," he added.

Libya is currently facing a political crisis after the Libyan Parliament swore in a new Prime Minister, former Interior Minister, Fathi Bashagha in February 2022. MP's argued that the incumbent Prime Minister, Abdel-Hamid Dbaiba's mandate expired when the elections failed to take places.