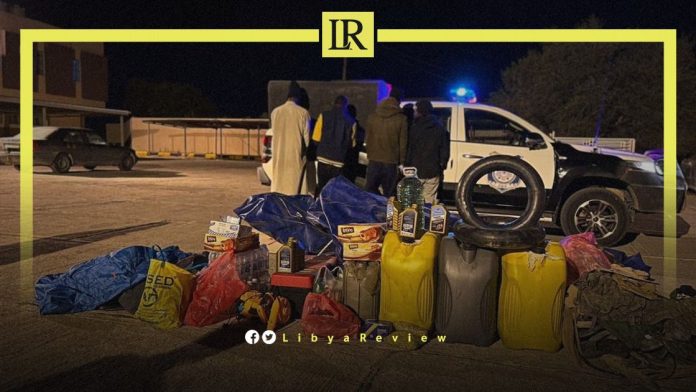 On Sunday, Libya's Ministry of Interior announced that it had thwarted an attempt to smuggle 100 migrants, 95 km from the capital, Tripoli.

In a statement, the ministry added that "a report was received that there was a rubber boat prepared to smuggle illegal migrants, located in a house in the Al-Alous area. A decision was made to assign members of the Rescue Department, the Directorate's Support Force, and the Qasr Al-Akhyar Police Station to go to the place of the complaint."

The police officers discovered the rubber boat, and The Public Prosecution and the head of the investigation at Qasr Al-Akhyar Police Station were notified. This resulted in an order for forces to move in on the house.

When the house was raided, 100 African nationals were discovered, with several escaping. The smuggler was arrested, and their goods seized.

The statement indicated that the Public Prosecution issued an arrest and habeas corpus order against a smuggler, which had resulted in the death of 27 people in the Al-Alous area. Search operations are still underway to arrest the man, and bring him to justice.

On Saturday, the African Union (AU) announced that arrangements are underway to transfer thousands of illegal immigrants sheltering in Libya, to Rwanda. This is based on an agreement signed between the AU, Rwanda, and the United Nations High Commissioner for Refugees (UNHCR) according to Tunisia's As-Sabah News Agency.

Under the agreement, signed on 10 September 2019, the UN is seeking to transfer illegal migrants and refugees living in dire conditions in Libya's detention centers to a safer location. UNHCR provides support to more than 55,000 migrants in Libya, including 4,700 people who are "in urgent need of transportation for their safety," according to a statement by the AU.

The first stage of the relocation will be moving 500 people originating from the Horn of Africa, including children and youth.

The herculean task is not free from obstacles. The African Union noted that since the signing of the tripartite agreement with UNHCR and Rwanda, only 190 people have been transferred to Rwanda in two phases, over the past three years.