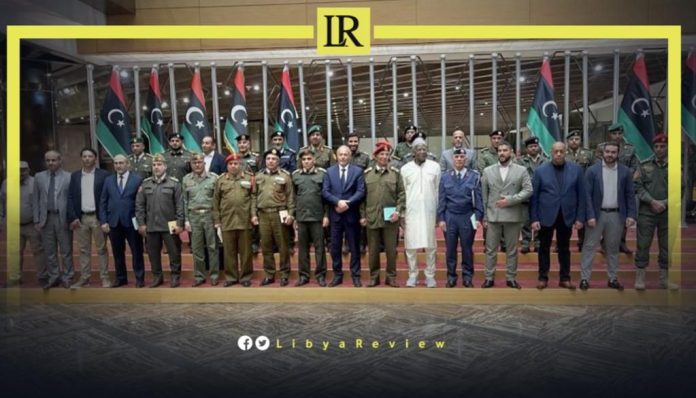 On Monday, Libyan MP, Jibril Ouhaida said that the meeting of the 5 + 5 Joint Military Committee (JMC) and military leaders in Tripoli "is a successful step towards unifying the military establishment."

In press statements, Ouhaida added that "this step is in the interest of resolving the Libyan crisis, and paves the way for elections. Everyone is fully convinced that the continued deterioration of the security situation will not serve the country, in addition to the need for the High Council of State (HCS) to cooperate to implement electoral laws."

He pointed out that "the fait accompli requires everyone to work in accordance with the context of unifying the military institution, and unifying political visions."

"We hope, after unifying the military institution, to work on collecting weapons that are scattered randomly. These will be at the disposal of a unified Libyan army, under an elected civilian authority," Ouhaida stated.

The United Nations Support Mission to Libya (UNSMIL) said that JMC met in Tripoli on Sunday, in the presence of the UN Envoy to Libya, Abdoulaye Bathily.

The meeting was attended by the Chief of Staff of the Libyan National Army (LNA), Abdel-Razek Al-Nathouri, and his counterpart of the Government of National Unity (GNU), Mohamed Al-Haddad, in addition to security units in the western, eastern, and southern regions. 

UNSMIL said that the discussions focused on the role of the military and security institutions in providing a conducive environment for advancing the political process, and holding free and fair elections in 2023. 

The meeting emphasized that "dialogue should be Libyan–Libyan, inside Libya, reject any foreign interference in Libyan affairs. As well as reiterate their full commitment to the outcomes of the dialogue between the military and security commanders that were decided during their first and second meetings held respectively in Tunis and Tripoli."

They rejected fighting and all forms of violence throughout the entirety of Libya's territory, stressing the "continuation of work towards unifying the military institutions through the Chiefs of Staff; unifying the security institutions; and the rest of the state institutions."

The meeting also reaffirmed the need to form a unified government, in addition to increasing efforts to address the challenges facing displaced people and those affected by fighting and wars. 

The attendees reiterated the need for the completion of national reconciliation and reparation efforts, commitment to pursue elections, and the need for the Libyan Parliament and the High Council of State (HCS) to complete their tasks.

According to UNSMIL, the attendees agreed to hold the next meeting during the month of Ramadan in Benghazi.