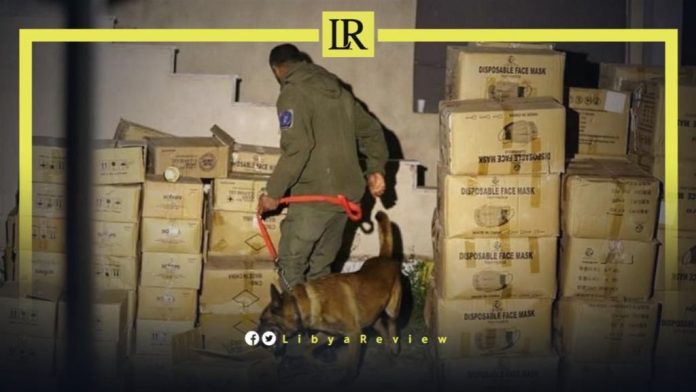 On Thursday, the Libyan Interior Ministry managed to seize a large number of narcotic tablets hidden inside a truck near Gate 27, west of Tripoli. The quantity is estimated at 2,280,000 million anaesthetic tablets.

In a statement, the ministry noted that the Anti-Smuggling and Drugs Department, in cooperation with the 52nd Brigade of the West Coast Military Zone, managed to seize the vehicle.

It also added that the necessary legal measures were taken, including a report to gather evidence and notify the prosecution. The Public Prosecution Office subsequently ordered the destruction of the seized drugs.

On Sunday, a large shipment of narcotic pills was seized at the Benghazi seaport. The smugglers attempted to conceal them inside imported cars, on a ship arriving from France, according to the media division of the Libyan National Army (LNA).

The division stated that during the periodic procedures for inspection and follow-up at the seaport, "more than 10 million hallucinogenic pills that were stored in imported cars, on a cargo ship coming from France, were found."

Earlier this month, members of the Libyan Security Directorate Support Agency managed to arrest a drug dealer in Tripoli. He was in possession of an estimated 1,500 narcotic pills, and 2 kilograms of hashish.

In a statement, the agency said that the arrest took place after an elaborate ambush was prepared. This was based on information received from the Anti-Narcotics Agency, about the location and movements of the suspect.

It confirmed that the drug dealer was handed over to the Narcotic Drugs and Psychotropic Substances Control Agency, to complete the necessary legal procedures.

Last month, Libya's Interior Ministry announced that members of the deterrence apparatus arrested an organized gang, that was planning to manufacture and trade drugs internationally.

In a statement, the Ministry said that "a machine used to manufacture narcotic pills at a very high density was seized after arriving in the country, through a seaport coming from Europe."

The statement explained that "this was done after setting up a tight ambush in the Al-Sawani area to seize the machine, while it was being delivered to a Libyan city, to begin the production process of nearly 100,000 narcotic pills per day."

In November, the Public Prosecutor's Office announced the seizure of 14,910 pieces of hashish and 829,830 narcotic tablets. These were hidden in a container designated for transporting durable goods coming from Turkey, at the seaport of Misrata.

The Office ordered that the perpetrators be referred to the competent authorities to complete all legal procedures against them and confiscate the narcotics.

The drug trade in Libya has proliferated since the 2011 civil war. the Maltese authorities recently seized 612kg of cocaine en route to Libya, in a record-breaking haul worth some €69 million.