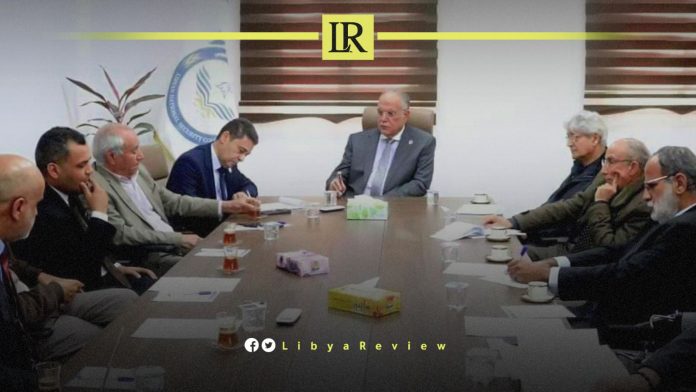 The Libyan National Security Adviser, Ibrahim Bushnaf met several heads and representatives of political parties in the cities and regions of Cyrenaica, in eastern Libya.

The meeting reviewed the initiative that was launched by the UN Envoy to Libya, Abdoulaye Bathily. This is aimed at holding Parliamentary and Presidential elections in 2023.

According to a statement issued by the Libyan Dignity Party, the meeting discussed "internal and international political developments on the Libyan scene, and the unification of parties' political positions on Bathily's initiative. As well as efforts to make the elections a success."

The meeting, which was held in Benghazi, also discussed the "vision of the political parties in the outcomes of the UN initiative, and the need to work to achieve more consensus to ensure the acceptance of the upcoming election results."

The political parties stressed the need to "include local work in the new constitution. As well as the sharing of wealth between the three regions of Libya." They also stressed the "importance of the success of the elections, to end the transitional period."

Bushnaf affirmed that "all national visions are compatible with Bahily's initiative." He confirmed the need to "push for elections to get out of the bottleneck in which Libya has been stuck for years."

On 27 February, Bathily announced an initiative aimed at enabling legislative and Presidential elections this year, and will set up a high-level steering panel, he told the United Nations Security Council earlier this month.

The proposed mechanism will bring together all relevant Libyan stakeholders, including representatives of political institutions, major political figures, tribal leaders, civil society organizations, security actors, women, and youth representatives.

Bathily noted that the initiative will facilitate the adoption of the legal framework and time-bound roadmap to the holding of elections in 2023. The proposed panel will also "provide a platform to advance consensus around related matters, such as election security and the adoption of a Code of Conduct for all candidates," he added.

Libya is currently facing a political crisis after the Libyan Parliament swore in a new Prime Minister, former Interior Minister, Fathi Bashagha in February 2022. MP's argued that the incumbent Prime Minister, Abdel-Hamid Dbaiba's mandate expired when the elections failed to take place.