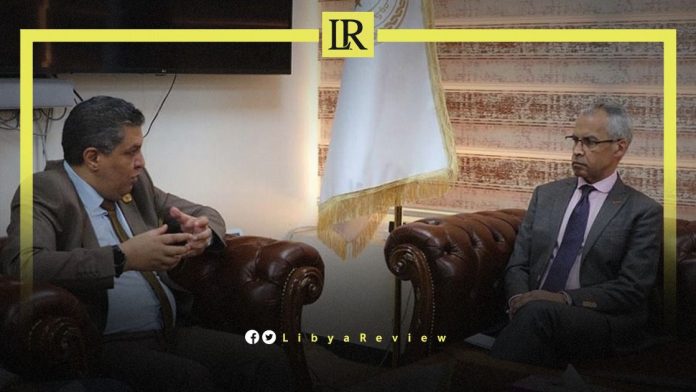 The Libyan Minister of Education, Musa Al-Maqrif discussed ways to teach the French language in Libyan high schools, with the French Ambassador to Libya, Mostafa Mihraje.

Al-Maqrif said that teaching foreign languages comes as part of the ministry's efforts to develop the education sector in the country. Students in Libya can also study Italian as an optional language.

Al-Mihraje appreciated the ministry's efforts to include teaching French in the study plan as an optional language. He expressed his readiness to support the plan with training programs and curricula.

The French Ambassador also affirmed the importance of the relations between Libya and France. He stressed the importance of Libya's unity, stability, and sovereignty.

Last month, the Chairman of Libya's High National Elections Commission (HNEC), Emad Al-Sayeh received Mihraje and his accompanying delegation.

In a statement, HNEC noted that the meeting discussed the latest developments in the electoral process. Al-Sayeh and the French delegation also "reviewed ways to support national proposals and initiatives that seek to hold elections, and keep peace and stability in the country."

"The meeting comes as part of France's support for the electoral process in Libya," the statement added. Mihraje affirmed his support for HNEC's efforts to "continue to achieve free and credible elections that reflect the will of the Libyan people."

In January, Al-Sayeh and Mihraje discussed the difficulties facing Libya's stalled electoral process.

The meeting touched on the extent of HNEC's readiness, and willingness to implement the upcoming Presidential and Parliamentary elections.

They also reviewed the capabilities available to HNEC, in terms of human, technical, and logistical resources. As well as ways of continuing technical support to maintain the commission's readiness, once a political consensus is reached. This includes international support provided to HNEC through the United Nations Support Mission in Libya (UNSMIL), to enhance the electoral knowledge and skills of HNEC staff.