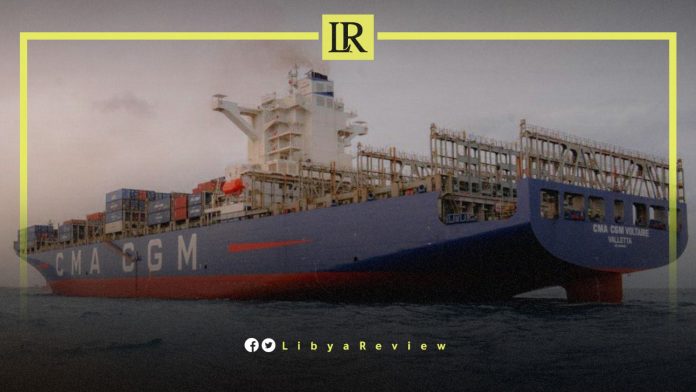 On Friday, a large Maltese ship docked at the port of the Misrata Free Zone, northwest Libya, coming from the port of Valletta.

The ship was the first of its kind to enter Libyan territorial waters and commercial ports, through its shipping agent, Amwaj Company.

The CMA CGM VOLTAIRE ship is 270.7 meters long, 42.2 meters wide, and has a cargo of 1859 TEU.

In September, the Head of the Libyan Presidential Council, Mohamed Al-Mnifi held talks with Malta's Prime Minister, Robert Abela. This was on the sidelines of the United Nations General Assembly in New York.

Malta's Prime Minister expressed his desire to establish direct sea and air links between Libya and Malta.

Abela stressed that Malta will "work tirelessly towards supporting the laudable and unwavering efforts of the UN Secretary-General, and his Special Representative to Libya."

He also ascertained that Malta will "also continue to push for Libya to remain high on the EU's agenda." A point which will surely be reinforced, in view of the current geopolitical climate.

Discussions also focused on other possible areas of collaboration, including healthcare, trade, education, and energy.

He affirmed that Malta is "committed to retaining a strong relationship with Libya, and the Libyan people."

Malta's PM noted that the future of the country should only be decided by its citizens, and there should not be "any external influences." He did not elaborate further.

Libya has been in chaos since a NATO-backed uprising toppled longtime leader Moammar Gadaffi in 2011. The county has for years been split between rival administrations, each backed by rogue militias and foreign governments.

The current stalemate grew out of the failure to hold elections in December, and the refusal of Prime Minister Abdel-Hamid Dbaiba, who led the transitional government, to step down. In response, the country's eastern-based Parliament appointed a rival Prime Minister, Fathi Bashagha, who has for months sought to install his government in Tripoli.