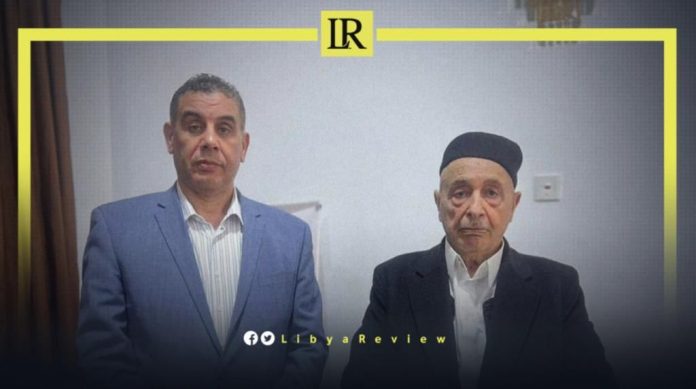 Parliament Speaker, Ageela Saleh met with Deputy Prime Minister in the Parliament-designated government, Ali Al-Qatrani.

In the meeting, which took place in the city of al-Qubba, Saleh stressed the need to liquidate the sums required for the government to implement its programs.

During the meeting, they also discussed ways to solve problems facing the support of the government sector and Ministries, in addition to supporting the distribution of fodder.

Notably, the Libyan Parliament-designated Prime Minister, Fathi Bashagha, confirmed that he will "remain in office until all Libyan parties agree on electoral laws that are internationally welcomed, and start announcing specific dates for the elections."

In press statements, Bashagha said that he will "define his position on running for the upcoming Presidential elections, after the issuance of laws regulating the electoral process."

He confirmed his refusal to "what is reported about the decline in his chances of winning the race," due to the failure of his government to enter Tripoli, to carry out its duties from there.

Bashagha indicated that his government, "obtained from the Central Bank of Libya (CBL) one and a half billion dinars, out of a total of 89 billion Libyan dinars, which is the total budget approved by the Libyan Parliament."

He affirmed that the problem of armed groups in Libya "is not difficult to solve, if there is international support and political will." He called for "finding alternative entities to accommodate these elements, and secure their sources of livelihood."

The Libyan Prime Minister expressed his hope that the "international community would take more steps in support of the initiative of the United Nations (UN) Envoy to Libya, Abdoulaye Bathily, who aims to hold elections at the end of this year."

Libya has been in chaos since a NATO-backed uprising toppled longtime leader Moammar Gaddafi in 2011. The county has for years been split between rival administrations, each backed by rogue militias and foreign governments.

The current stalemate grew out of the failure to hold elections in December 2021, and the refusal of Prime Minister Abdelhamid Dbaiba, who is leading the transitional government, to step down. In response, the country's eastern-based Parliament appointed a rival Prime Minister, Fathi Bashagha, who has for months sought to install his government in Tripoli.