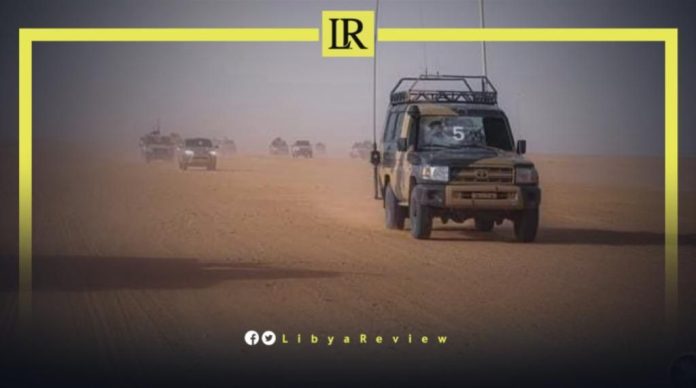 Sources in the Libyan armed forces revealed military movements to secure the common border with Sudan.

According to a report by the London-based Asharq Al-Awsat newspaper, these moves come in light of the developments in Sudan.

The sources added that the armed forces near the border have been reinforced, without revealing further details.

A high-ranking Libyan military official warned of the repercussions of the armed clashes in Sudan, on the situation in Libya. He called for the closure of the common borders, until the situation calms down.

The Commander of the Military Organization and Administration Authority in southern Libya, Brigadier General Abdel-Salam Al-Busaifi appealed to the Chiefs of Staff in the East and West of Libya to quickly close the borders.

He urged them to "assign striking military forces to protect them, and prevent any infiltration and to station reconnaissance planes at Kufra Airport."

"I think it will be a long-term war, and we have to close our border like what Chad has done since the start of the clashes in Sudan," Al-Bousaifi said in press statements. He pointed out that the southeast region would be most affected if the clashes spread to Libya.

On Saturday, the Libyan Ministry of Foreign Affairs called on Libyan citizens in Sudan to stay indoors and exercise caution.

The recent clashes between the Sudanese Army and paramilitary forces have resulted in a volatile situation. This prompted local authorities to issue advisories to expatriates, including the Libyan community.

In a statement, the Ministry said that it had formed a team to monitor the situation in Khartoum to protect the Libyan community, should the security situation continue to deteriorate.

The Libyan Embassy in Khartoum also issued an advisory to Libyan nationals, urging them to remain indoors and avoid any unnecessary travel until further notice. The Embassy has set up helpline numbers to provide assistance and support to the Libyan community, in case of emergencies.

"The safety and security of Libyan nationals abroad are of utmost importance, and the Libyan government is actively monitoring the situation in Sudan. The Ministry of Foreign Affairs is in constant contact with the Libyan Embassy in Sudan, and is taking necessary steps to ensure the safety and welfare of Libyan citizens in the country," read the statement.

Residents reported hearing heavy gunfire and tank shelling on Saturday, after failed negotiations between the army, paramilitary, and civilian groups over a long-awaited power-sharing deal, following a coup in October 2021. The army and paramilitary sides confirmed that fighting was underway.

The violence is the latest setback in a long-delayed transition to a civilian government following the ousting of dictator Omar Al-Bashir in 2019, after months of street protests.