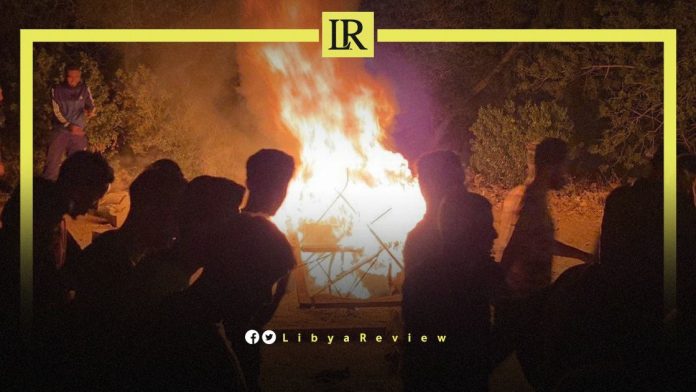 On Thursday, the Libyan city of Al-Zawiya, west of Tripoli, saw a wave of mass protests following the circulation of videos showing Libyan youth being tortured by African mercenaries at a militia headquarters.

The video, which has gone viral on social media, showed scenes of torture, beating, insults, and whipping of a number of Libyan youths.

There were reports that one of the victims was killed by the torturers, who have also reportedly kidnapped his brother. Meanwhile, a group of youths blocked the Coastal Road in response.

Angry protesters forced the closure of the valves of the Al-Zawiya Oil Refinery early this morning. They also gathered in front of the Al-Zawiya Security Directorate, demanding the dismissal of the Security Director, and the expulsion of armed vehicles from the area. As well as declaring civil disobedience, in protest against the spread of crime in the city, according to activists.

A social media activist said that what is happening in Al-Zawiya "is not new," as the city has witnessed "a significant deterioration in the security situation."

Another resident wondered how Libyan youth from the city have "become victims at the hands of African migrants who boast about their actions, and send videos to each other?" He called for "popular action to put an end to this farce."

Meanwhile, others blamed the Security Directorate and the Al-Zawiya Municipal Council for the situation, in addition to the armed groups there.

They also called for "not politicizing the popular movement or linking it to any party," stressing that *this movement is for rectifying the situation, and to arrest the criminals involved in torture."

Al-Zawiya has seen repeated clashes between the armed groups deployed across the city. The latest clashes occurred on Sunday, at one of the city's entrances, which resulted in the deaths of four people.

In late February, clashes broke out in the Metred suburb, resulting in two deaths and two injuries.

There have also been other clashes in the Dhi Al-Hilal suburb, which claimed the lives of several residents, and damaged homes, according to a statement issued by the Western Coastal Military Region at the time.