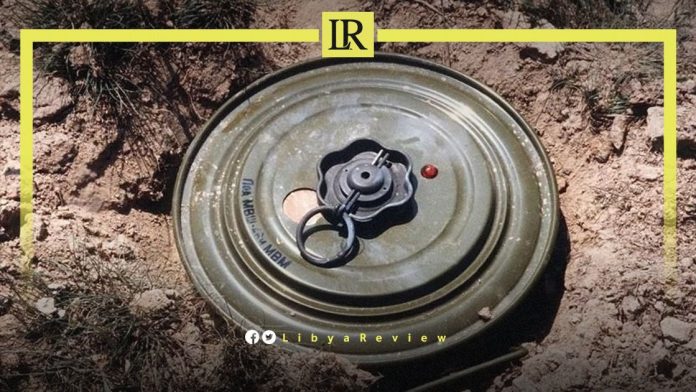 The United Nations Support Mission in Libya (UNSMIL) stated that more than 1 million explosive remnants of war (ERW) have been removed in Libya since 2011. These included 82% of projectiles, and 4% of small arms ammunition UNSMIL noted.

UNSMIL announced the launch of Mine Reduction Week, which aims to raise awareness of the dangers of unexploded ordnance.

The Mission stated that the United Nations Mine Action Service (UNMAS) has removed 28,394 pieces of explosive materials in Libya, in cooperation with Libyan partners since 2022.

It confirmed that UNMAS has been working continuously with Libyan partners to clear explosive remnants of war since 2011.

On Monday, the Libyan National Safety Authority in Tripoli announced the removal of remnants of war in several regions of western Libya.

Experts removed two tank and artillery shells from the Al-Sayeh area of Tripoli, according to a statement issued by the Authority on Monday.

They also found a hand grenade in the city of Al-Zawiya, and an RPG projectile in the city of Sabratha.

Last month, UNSMIL said that 19 people, including 14 children were killed by explosive remnants of war in 2022.

On the International Day for Mine Awareness and Assistance in Mine Action, UNSMIL noted that this year's theme, "Mine action cannot wait," is particularly befitting in the Libyan context.

In a joint statement with UNMAS, they confirmed that "despite strong efforts from mine action partners over the past decade, more than 15 million M² are still contaminated with explosive ordnances across Libya."

The statement added that "the indiscriminate use of weapons in civilian areas, during the recent conflicts, means even urban areas are littered with explosive remnants of war. These remnants of conflict obstruct safe access to education, healthcare, and development, and continue to injure or kill long after the fighting has ceased, posing a daily threat to life and livelihoods."

UN Envoy to Libya, Abdoulaye Bathily said that "Mine action efforts are an essential component of Libya's journey to peace and stability, coupled with reforms in the security sector to control explosive ordnance contamination, and the proliferation of weapons."

"The threat posed to Libyan citizens undermines stability, and the right to a life without fear," he added.

UNMAS Libya, together with the Libyan Mine Action Centre, the United Nations Children's Fund (UNICEF) and other mine action partners are working to remove these life-threatening items from schools, houses, farmlands, and hospitals. As well as to safeguard Libyans by increasing awareness of the explosive ordnance threat.